Registration Coming Soon!
Team Captains: All Team Captains, including those who have been a Team Captain in the past, must create a new team.
If you plan on participating, don't forget to join after creating the team!
Entry Fees (per participant):
Processing fees will apply on each registration. Entry Fees are non-refundable. The fee includes the 5k run/walk, 8-week training program, event bib, event shirt, finisher certificate.
5k – In Person
$28 - Through September 17
Register by 11:59 pm on September 17th and your number will be included with your team box and will be distributed by your team captain.  
$33 - September 18 – 22
$38 – September 23-29
For registration completed Sept. 18 - Sept. 29:
--- participant pays individually
--- participant may pick up individual race bib and participant shirt
(Bib number pick up begins on September 23)
5k – Virtual
Includes shipping.
$32 ($28 entry fee + $4 shipping fee)- Through September 17
$37 ($33 entry fee + $4 shipping fee) - September 18 – 22
$42 ($38 entry fee + $4 shipping fee) – September 23-29
---
Team Registration Process
STEP 1. Select Your Payment option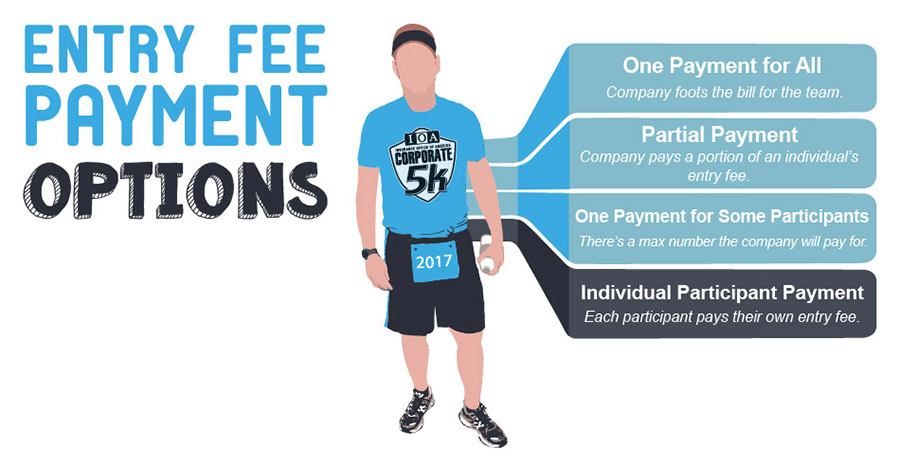 Step 2. Team Box Pick-Up
Team Captains must pick up team box for all participants registered by 11:59 pm on September 17th. Team box includes includes: Bib #'s, t-shirts, safety pins, race day information. Pick-up at Track Shack located at 1104 N Mills Ave. 
For registrations completed September 18 - September 29 participants may pick up individual race number and shirt.
| | |
| --- | --- |
| Thursday, September 23 - Friday, September 24 | 10:00 am - 6:00 pm |
| Saturday, September 25 | 10:00 am - 5:00 pm |
| Sunday, September 26 | CLOSED |
| Monday, September 27 - Wednesday, September 29 | 10:00 am - 6:00 pm |
Note: Box Pick-Up is not available race day.
STEP 3. Seed the Fastest Runners
At Box/Bib Number Pick-up, the Team Captain will receive wristbands for seeded runners. Only those runners who wear the wristband will be allowed in the "seeded corral" at the start line.
Captains may 'seed' 10% of their participants (i.e. 45 participants = 5 seeded runners), up to a maximum of 25 runners. Seeded runners are the fastest runners and will be at the front of the starting line. Seeded runners should be full time employees (for scoring) and be able to complete the Corporate 5k in 25 minutes or less. It is not mandatory to seed runners.
Start Corrals and Corresponding Race Number Color
Seeded- Green Wristband
CEO- Green bib number
Runners- Orange bib number
Walkers- Purple bib number (Those completing the event in 40 minutes or longer)
---
Dates to Remember:
July 15, 2021: Team Captain kick-off Zoom meeting
August 9, 2021: 8 week Training begins
September 10, 2021: Last chance to nominate someone for the Workplace Wellness Award
September 10, 2021: Deadline to submit t-shirt design for the T-shirt Design Contest
September 13, 2021 – September 17, 2021: Vote for your favorite T-shirt design on the Corporate 5k Facebook page.
September 17, 2021: Last day to register to get included in team invoice (if your company is paying for all employees). Teams can still be created online after this date, but individual payments will be the only payment option.
September 17, 2021: Deadline to approve or deny participants; all participants will be approved after that date.
September 17, 2021: Deadline to transfer a registration from one participant to another.
September 20, 2021: Team payment due. Generate and pay your invoice online! Checks should be made out to Track Shack Fitness Club. Invoices can be generated and paid for before the due date. 
September 20, 2021: For participants who requested shipping, packets will be shipped starting the week of September 20. If you request shipping after that date, it is not guaranteed that you will receive your packet before September (Domestic shipping only).
September 23, 2021 - September 29, 2021: Participant bib pick up at Track Shack. Teams must be paid in full. Registration includes: Bib, event shirt, reusable mask and Real-Time Remote Racing. 
To request team box pick up please email info@corporate5k.com.
September 30, 2021: RACE DAY! 6:15 pm
October 4, 2021: Finish times for your team are due by 12:00 pm (noon) to be included in the results.