Contests
SimplyIOA Corporate 5k Sweepstakes
Get an insurance quote for a chance to win the SimplyIOA Sweepstakes.
Complete a home or auto quote to be entered to win a $500 Gift Card to Track Shack + a Race Entry of Choice!
Contest ends 4/17!
---




Track Shack T-Shirt Design Contest
The "Best Overall Design" is decided by the participants through the Corporate 5k Facebook page. The entries are posted in a photo album for everyone to see and vote/like, so make sure they look good! An e-mail will be sent to the winning team and announced on the Corporate 5k Facebook page.
Contest Rules:
1. E-mail your design to info@corporate5k.com, subject line "T-shirt Contest".
2. Send a link to your company's Facebook page and include your company's name
3. The image should be a JPEG of the design mocked up on t-shirt in a minimum size of 1000 pixels wide.
4. The deadline is Friday, April 14. No entries will be accepted after the deadline.
Vote on the Corporate 5k Facebook page from April 17 until Friday, April 21  @ 4PM.
The design with the most "likes" wins.
2022 T-Shirt Design Contest Winner: AdventHealth
---
Win a Free Commercial from Key HR ($2,000 Value)
"At Key HR, we believe in marketing with our small business partners to help them grow while providing the best services in payroll, employee benefits, insurance and HR."
This year's presenting sponsor is providing free commercials and advertisements for small businesses and nonprofits. 
Each business that signs up has a chance to receive a 1-video commercial and 1-video advertisement for social media. Filming occurs near the end of every month.
---
Team Spirit Award presented by SimplyIOA
There is only one way to get this award and that is to register the largest team at the Corporate 5k. A team is not just your co-workers. You can invite anyone to be a part of your team- friends, family, clients and vendors! 
2022 Spirit Award Winner: Orange County Government
---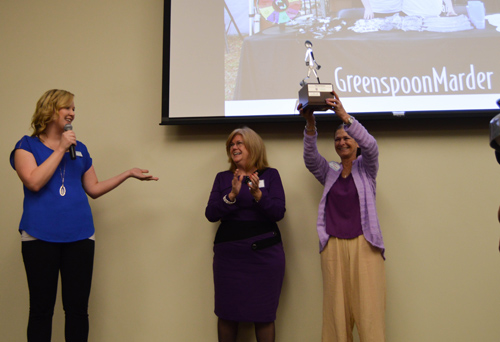 Top Fundraiser Spoon Award
The SimplyIOA Corporate 5k is the Big Race with the Big Heart! We have partnered with Second Harvest Food Bank to bring hope to the Central Florida community.
The team who raises the most meals for Second Harvest each year receives recognition at the Team Captain's Party.