Team captains are the heart and soul of the SimplyIOA Corporate 5k presented by Key HR. Team Captains are responsible to create the team, recruit members and encourage company participation. 
Scroll below to view the Team Captain checklist.
| | | |
| --- | --- | --- |
| | | |
Tent Rental 
Celebrate with your team! Create your team and reserve your tent online through the "Team Captain Store". 
Seniority and the date your application was received will determine tent location and order of selection. Due to event permit, we cannot allow companies to bring out their own tents.
Fees
$675* - 10'X 10' Tent Recommended for 10-25 people. Includes: 1 Table, 2 Chairs, Tent Locator Sign 
$875* - 10'X 20' Tent Recommended for 25-50 people. Includes: 2 Tables, 6 Chairs, Tent Locator Sign 
$1275* - 20'X 20' Tent Recommended for 50+ people. Includes:  4 Tables, 8 Chairs, Tent Locator Sign 
*Processing fees will apply. 
Extra chairs, tables and lanterns are also available for rental. Tent Prices will increase by $100 per size after January 31, 2024 – ORDER and PAY EARLY!! Team tent invoice must be paid in full by Febuary 23, 2024 or the team tent will be removed from your cart.
Refund Policy: Refunds will be given to those teams requesting before March 25, 2024. Refunds will be the full amount minus a $100 non-refundable processing fee. No Refunds after March 25, 2025.

Please Note: Due to Lake Eola Park Regulations, outside alcohol is not allowed to be brought into Lake Eola. Alcohol may only be obtained from the Michelob Ultra Beer Stations located in the Blue, Red and Gold Zones. Grills, cooking appliances, and glass bottles are strictly prohibited in Lake Eola Park as well. Please do not dump any objects or liquid into the lake or dump ice onto the grass. Each tent will have a trashcan to dump any unwanted items at the end of the evening. Coolers and bags are subject to search. One company banner may be displayed within the structure of a rented tent. All other banners will be removed.
---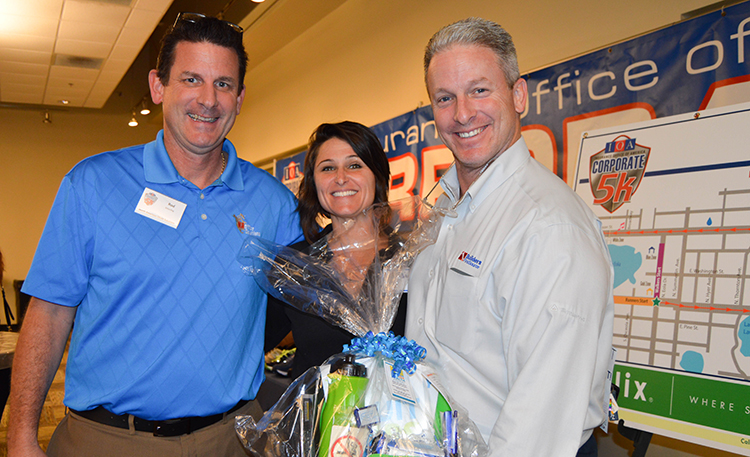 Team Captain Kick-Off Party
The Team Captain Party celebrates you and your part to make the SimplyIOA Corporate 5k presented by Key HR a success.

Join fellow captains to kick-off registration and enjoy food, fun and a little advice. We are proud to support the team captains who champion workplace health and wellness!
Thursday, February 15
5:00 pm to 7:00 pm
Second Harvest Food Bank of Central Florida

---
Team Captain Tool Kit
Below is a collection of forms, pdfs and promotional tools gathered in one location for easy access as you plan for your most successful and largest Corporate 5k team ever!
Promotional Tools
Join Our Team – Digital Invitation 
Important Dates (See below)
Company Tent List and Maps >>

---
Team Captain's Checklist
1. GET STARTED

Create a Team
All Team Captains, including those who have been a team captain in the past, must create a new team. Don't forget to join after creating the team!

Sign up for Corporate 5k E-News and receive important event emails from
race committee

Attend the Team Captain Party at Track Shack! RSVP >>

2. BUILD YOUR TEAM

Invite Members

Add Members

Manage your team
To make a payment, login to "Manage your Team"


Invite vendors, clients, friends and family to join your team. And – new this year! - include extended work family, those who work beyond Central Florida, to participate in the virtual race. 

3. MOTIVATE

4. GO ALL OUT

5. FINAL PLANNING AND COMMUNICATION

Use 'Team Manager Tool" to export members.

Distribute race day materials to team members

Submit team results
---
Dates to Remember:
• February 15, 2024: Team Captain Kick-Off Party at Second Harvest Food Bank. RSVP >>
• March 11, 2024: 8-Week Training begins
• March 25, 2024: Deadline to reserve a team tent 
• April 5, 2024: Team name on bib deadline
• April 19, 2024: Deadline to submit t-shirt design for the T-shirt Design Contest
• April 22, 2024 – April 26, 2024: Vote for your favorite T-shirt design on the Corporate 5k Facebook page.
• April 26, 2024: Last day to register to get included in team invoice (if your company is paying for all employees). Teams can still be created online after this date, but individual payment will be the only payment option.
• April 26, 2024: Deadline to approve or deny participants; all participants will be approved after that date.
• April 30, 2024 Team payment due. Generate and pay your invoice online! Checks should be made out to Track Shack Fitness Club. Invoices can be generated and paid for before the due date. 
• May 2, 2024 - May 8, 2024: Team Captains must pick up team box. Team must be paid in full. Participants who registered by April 21st are included in the team box. Participants who register between April 22 - May 3 can pick up individual race number and shirt. Track Shack is located at 1104 N. Mills Avenue, Orlando, 32803. To request individual participant pick up, please email info@corporate5k.com. 
• May 9, 2024: RACE DAY! 6:15 pm
• May 13, 2024: 12:00 pm/Noon -Deadline for Team Captains to submit participants finish times and create scoring teams.
• May 23, 2024: Awards Reception presented by The Good Pour