What accommodations are offered to wheelchair athletes?
Wheelchair athletes are invited to participate in Track Shack Events.  To participate, a wheelchair athlete may be push rim or hand cycle and must wear a helmet. Hand cycle wheelchair athletes will be in the exhibition category, are not eligible for awards, and may not pass the lead cyclist. Awards are given to the overall male, female and nonbinary/genderqueer push rim athlete.  
For more information on wheelchair participation, please email info@trackshack.com.
What accommodations are offered to visually impaired runners?
In most situations and within an appropriate time frame, the organizing committee can pair a visually impaired runner/walker with a guide to participate in a Track Shack event.  Please email info@trackshack.com to request this accommodation.
What accommodations are offered to hearing impaired runners?
Within an appropriate time frame, the organizing committee can assist in providing ASL interpretation for a hearing impaired runner/walker. Please email info@trackshack.com to request this accommodation.
Nonbinary/Genderqueer Athletes 
Track Shack offers a nonbinary/genderqueer gender category option at our timed events. Awards are given to the top nonbinary/genderqueer athlete.
For the 2023-24 season, we do not have a nonbinary/genderqueer award for the Track Shack Running Series. 
At point of race registration athletes may select a nonbinary/genderqueer gender category.
Contact info@trackshack.com to change a registration profile.  
---
WEATHER, SAFETY, COURSE CUT OFFS, AND CANCELLATIONS
Races are held rain or shine. Track Shack Events (TSE) may delay, shorten, cancel or alter any event or course due to weather or for any other reasons within or not within the control of TSE. 
In the event of extreme weather conditions, TSE, as advised by the Police and Fire/EMS Departments, reserves the right to cancel the race or run it as an untimed "fun run" without advance notice. Should this be necessary, participants will receive event amenities.
As event decisions are made, communication will be issued through the any of following methods: text, email, website and/or social media. 

All entry fees are non-refundable, and may not be deferred toward a future event. 

Event Alert System
A color-coded Event Alert System (EAS) will communicate the status of course conditions to participants leading up to and on race day. The levels range from Low (green) to Moderate (yellow) to High (red) to Extreme (black) based primarily on the weather, as well as other conditions.
All participants should familiarize themselves with the Event Alert System prior to the race, remain alert for directions from race officials and announcers and take precautions to prepare properly for varying weather conditions on race day.
Event Alert System table: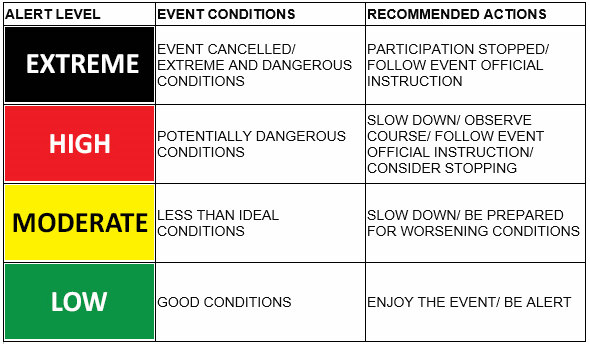 Course Cut Off Times
We are committed to providing access for runners, walkers and wheelchair athletes in our events. However, we must institute course time limits to adhere to municipal requirements.  Participants must be able to maintain a 15 minute per mile pace. Participants who are unable to maintain that pace will be directed on to the sidewalk by race officials. Those who finish outside of the time limit may not be recorded as official finishers and may not receive full on-course support from Aid Stations and traffic personnel. 
Stroller Policy
Safety for all participants is our first priority and we are happy to permit strollers for a fun family outing. With thousands of runners and walkers sharing the road, this event is not a place for speed with a stroller. The policy below will help keep our youngest and oldest participants safe and having fun.

• Stroller/jogger operators start behind designated stroller signage.
• Stroller/jogger operators may walk/jog no faster than 12 minute per mile, a safe operating speed. If your speed goes faster than 12 minutes per mile pace, you may be disqualified.
• Stroller/jogger operators must yield the right of way to runners. Stroller/Joggers can tip easily and cannot turn quickly. Please do not weave through packs of runners. 

Check in Procedure on Race Day:
1.  Go to the Stroller Check-In near the Kids' Run table 10 minutes prior to race start time.
2.  Sign a waiver for each child that will be in a stroller. A sticker will be given to you at Check-In.

Strollers are strictly prohibited at the following races:
•    OUC Orlando Half Marathon
•    IOA Corporate 5k
•    U Can Finish 5 Mile
•    Winter Park Road Race 10k

Pet Policy
Pets are not allowed on Track Shack Event race courses.

Bandits/Non-Registered Participants on Course
Individuals who participate in our events but who are not properly registered are strictly prohibited and will be ejected from the course. Please do not participate if you are not properly registered; you will disrupt the event for individuals who have taken the appropriate steps to register properly.

---
GENERAL
Photo Policy
By registering for our events, you agree to the use of your name and photograph in broadcasts, newspapers, brochures, and other media without compensation.

Feeling sick? Please stay home.
Please do not attend events if you are experiencing the following cold and flu symptoms.
Fever or feeling feverish/chills — A temperature of 100.5 or higher for three to four days is associated with the flu
Uncontrollable sneezing and coughing
Severe muscle or body aches
Headaches
Moderate to severe fatigue
Vomiting and diarrhea
Email info@trackshack.com prior to the event to switch your registration to the virtual category.
Tax Deductions
Your entry fees cover the expenses of the event and you receive tangible/non-tangible goods in exchange for your registration fee (e.g. ameneties, safe closed and certified course, timing tag and scoring, post-race food, entertainment). Typically, only donations above the registration fees that are made directly to the charity are eligible for tax deductions, however, you should confer with your tax professional.

Registrant Waiver
In consideration of my entry being accepted, I intend to be legally bound, and do hereby, for myself, my heirs, executors, waive and release all rights and claims for damages which may have or which may hereinafter accrue to me against Track Shack, Track Shack Youth Foundation, Event Marketing and Management International, Inc., RRCA, all city entities, sponsors, and vendors of the event which I am entering, any subsidiary or political division thereof, of their respective officers, agents, directors, representatives, successors, assigns, and sponsors for any and all damages or injuries which may be sustained and suffered by me in connection with my association with entry or participation in this event as is mentioned above.  If I should suffer injury or illness I authorize officials of the race to use their discretion to have me transported to a medical facility, and I take full responsibility for this action. I attest and certify that I am physically fit and have sufficiently trained for the completion of this event.  I hereby grant full permission to any and all of the foregoing to use any photographs, videotapes, motion pictures, recordings or any other record of this event for any purpose. Bicycles, dogs, scooters, inline/roller skates are prohibited. The use of headphones is discouraged. Runners and walkers with baby joggers or strollers must start behind designated signage and are required to maintain a 12 minute per mile pace or slower. I HAVE READ THE ABOVE RELEASE AND UNDERSTAND THAT I AM ENTERING THIS EVENT AT MY OWN RISK.  
Unauthorized Promotion and/or Flyer Distribution
Passing out flyers and/or placing flyers on car windshields is absolutely prohibited at Track Shack Events.  In some municipalities this practice is unlawful, creates litter and can leave a venue in a worse condition than when we arrived.  People found passing out flyers will be asked to stop distributing and to leave a venue that has been rented by Track Shack Events.    Failure to adhere to this policy may negate future opportunities to be listed on our free website calendar or place flyers in Track Shack.

Please consider our affordable event marketing services.