Official Sponsorship of a Track Shack Events race includes the following:
•    Prominent Logo Placement on Event T-Shirt
•    Email blast to over 54,000 opt-in addresses
•    Onsite Benefits including 10' X 10' tent, complimentary entries, packet stuffing and more.

To get involved contact us today at 407-896-1160 or marketing@trackshack.com.  
Photo Banner
Custom photo backdrops are made for each event.  Participants gather to take photos as a memento of their healthy accomplishment.  Photos are shared with friends, family and on social media.

Course Map

We know event participants want to see the race course.  This is a highly interactive sponsorship.  Participants view the route when displayed in store at The Track Shack, on trackshack.com and in monthly e-mail blasts.  Logos, coupons and/or branding are part of the course map experience that race participants appreciate. 

Mile Marker
Are you on pace? 
What's your time as you pass the mile marker? 
How far do we have left to run? 
These are the questions that participants ask when passing a mile marker.  Your company can benefit from this highly sought after positioning on the race course.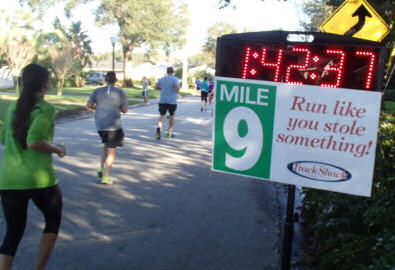 Race Results
No matter what your time is seeing your name in the results is instant gratification. That is why the results webpage on trackshack.com are the most visited places post-race. By sponsoring the results a sponsor supports the individual goals of each participant.