Getting to the 5k
Location: 512 East Washington St. Orlando, FL 32801
You have many transportation options to get to the race, from driving to riding! Arriving 1 hour early is strongly recommended due to anticipated traffic congestion. 
Downtown Transportation Map: View map >>
I-4 Express: Explore an interactive map to see where you can enter and exit I-4 Express at i4express.com
Carpool: Share the ride with your coworkers and split the cost of parking.
ParkMobile: Reserve your parking with ParkMobile. CLICK HERE To learn more about parking options and to reserve a spot.
Find open spaces on demand with the ParkMobile app. The app will even remind you when it's time to feed the meter.

Ride-share Drop-Off/Pick-Up Location: Orlando Public Library (101 E Central Blvd.)
Ride SunRail
Beat the traffic and hassle of parking in Downtown Orlando by taking SunRail to Church Steet Station, a short warm-up walk to Lake Eola.
Use the special Race Day schedule to plan your travel.

All participants can ride the train for FREE to and from the race by showing the conductor your bib number. 
There will be a special northbound train at 9:00 pm at Church Street station.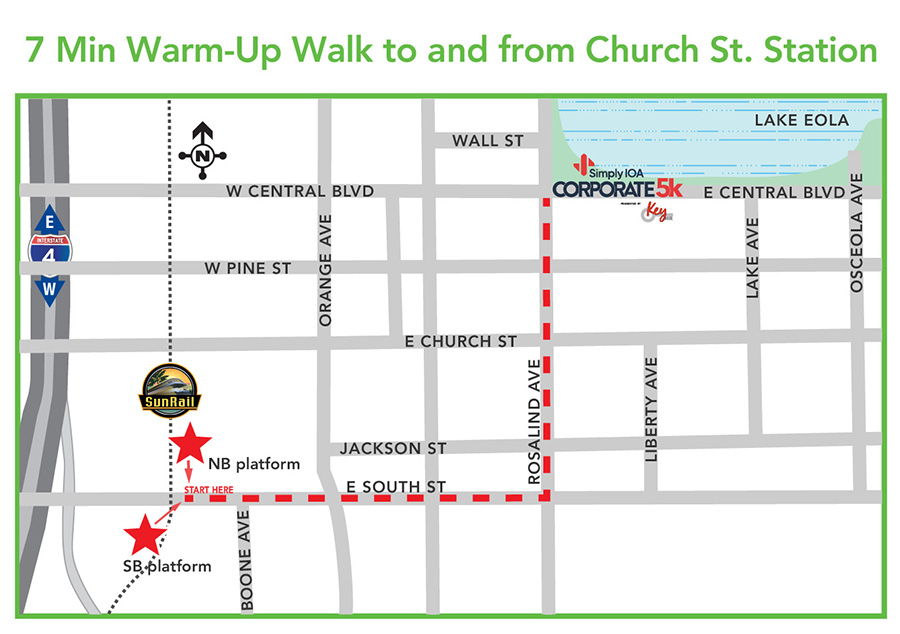 Parking Garages 
Riding 
Lynx provides public transportation services in downtown Orlando, including the fare-free LYMMO. Learn more at golynx.com. 
There are several Scooter Share and Bike Share options in downtown Orlando, including Lime, Bird, Wheels, Spin and Razor. Rental fees vary.