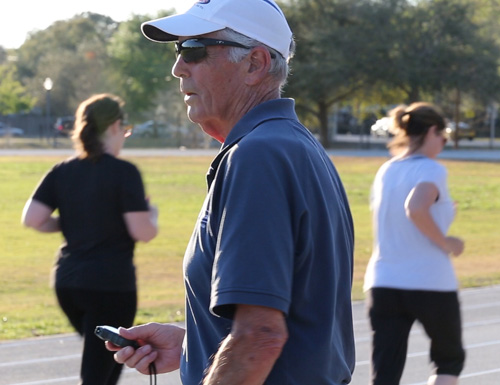 Zero to Fit is a running/walking program for adults interested in using running and/or walking to improve their overall fitness and health. If you want to get off the couch and begin exercising, Zero to Fit is the place to start your journey. Results vary per individual, but many of our participants are able to go from doing 0 miles of running/walking to doing three miles over the course of the 10-week session.
You will learn how to do running drills that make you a stronger and more efficient runner, experience carefully crafted workouts that address a wide variety of fitness levels, learn how to cool down after running, and learn the proper stretches to do afterward.
You will be prepared to enter local 5k's or 10k's, should you choose to do an event. All participants are encouraged to check with their physician for approval first before registering for any exercise program.
"Having someone to train with is almost as important as having a coach. Even if you come to the program not knowing anyone you develop friendships and really look forward to the weekly workouts." Steven

Invite a friend to train with you and you both get $10 back!
1. Share the referral registration link in your registration confirmation email.
2. Get a friend to register using your referral link, and you BOTH will receive $10 back on your Training Program registration. Referred friends must be new members.
3. Once both registered, contact info@trackshack.com to claim your $10 refund.
---
Zero To Fit Orlando
10 Week Sessions

New Sessions begin: August, October, January, March

Upcoming Session

Monday, October 9, 2023 - Wednesday, December 13, 2023


Days/Times/Location
(Select the time that works
best for you)

Monday and Wednesday.
9:00 am - 10:00 am: Blue Jacket Park, near the water fountain
6:00 pm - 7:00 pm: Back corner parking lot of Glenridge Middle School, off Upper Park Road
View Map in Google

Coach

9:00 am - Lorraine Hardaway
6:00 pm - Dan Johannes

Session Fee

New members: $90
Alumni*: $75

*An alumnus is one who has participated in this specific
training program within the last two years.


Registration - COMING SOON





Contact

Shannon Battoe
Training Program Co-Director
sanny262@gmail.com
321-263-5558


Dan Kline
Training Program Co-Director
dkline2703@gmail.com
407-766-8029
---
Meet Our Coaches
Coach Lorraine H.




Hometown: East Palestine, Ohio
Years Running: 23 years
Favorite workout? Long runs on the weekends with friends and straight-aways on the track
Best advice for beginners: Pick a goal for running that fits you. Find someone to train with you towards that goal and when you meet it, find another goal that challenges you to push further!

Coach Dan J.

Hometown: Wheaton, MD
Years Running: 31 years
Favorite local place to run? Winter Park
Favorite workout? Marathonfest Mile
Which do you like better: Running alone or with people? I like running in a group of at least 3 other people. But I also enjoy running alone when I have to.
Program Benefits

Coached workouts

Discount Card for merchandise at Track Shack

Access to AdventHealth professionals
Target Race
Put your training in to motion! The Target Race is set to be your goal race during the program!
Run or walk with the Zero to Fit group at your session's Target Race.
• January Session: Winter Park Road Race 2 Mile
• March Session: Watermelon 5k
• August Session: Battle of the Bands 5k
• October Session: Lake Eola 5k

Join the Facebook Group
For updates, motivation and to share your experience! #ZerotoFit







Rain Policy

Training programs run in the rain! Coaches are present for every workout and workouts are only cancelled if lightning is present in the area at that time.
Refund Policy

The training fee is non-refundable.
Restrictions
For safety reasons, baby joggers/strollers, bicycles, rollers skates, in-line skates, and dogs will be prohibited from the training sessions.

NOTE: The Track Shack Fitness Training Programs are designed for persons over the age of 18. Persons younger than 18 interested in training, should check with their school for running/fitness programs or check out Cheetahs Running Club.