2019 Overall Finishers
| | | | |
| --- | --- | --- | --- |
| Overall Female | Erica Weitz | Track Shack Fitness Club | 17:41 |
| Overall Male | Jonathan Mott | CRU | 15:49 |
| Female CEO | Jill Traver | In Motion Physical Therapy | 22:44 |
| Male CEO | Aleksandr Murga | World TransSport Corp. | 18:55 |
---
Feeling Competitive?

Find out how your team finished against other companies in your industry! All teams that submit team member results on www.manage.hakuapp.com by 12:00 pm (noon) on Monday after the race are recognized in the results. Results are broken down in each industry category by:
Men's, Women's, Coed divisions. 


Team Captain Awards Reception sponsored by Greenspoon Marder
The top 3 teams in each industry category win awards. Pick up your award, enjoy complimentary appetizers, beer and wine, and stay for a chance to win door prizes.
Date: Tuesday, October 13, 2020
Time: 4:30 – 6:30 pm
Hosted by: Greenspoon Marder – the Official Awards Sponsor
Location: 201 East Pine Street, Suite 500
---
Industry Category Awards
1st Place - Receive a team award and individual team member awards
2nd & 3rd Place - Receive a team certificate
Industry Categories
| | |
| --- | --- |
| Accounting | Insurance |
| Advertising / PR / Media | Legal |
| Banking/Finance/Investments | Manufacturing  |
| Communications/Electronics/Computers | Miscellaneous  |
| Education (Private/Public)  | Non - Profit Organizations |
| Engineering / Architecture/Construction  | Real Estate  |
| Government Employees (City/County) | Retail/Service/Staffing |
| Government Employees (State/Federal) | Transportation |
| Health Related/Hospital/Medical Supplies | |
| Hotel/Restaurant/Food Service/Theme Parks | |
---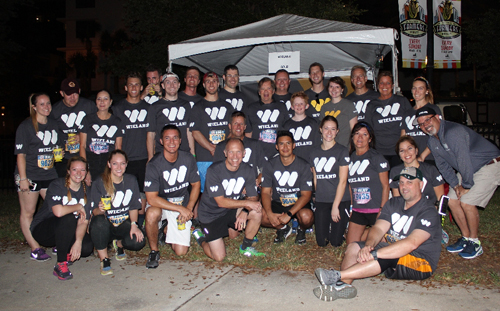 Scoring
Don't miss the chance to see your company's name in the results! Not doing it for the Glory? Don't worry, the Team Scoring is optional.
This is a great opportunity to stir up friendly competition and get company recognition. It's simple; after the race, participants submit their finish times to the Team Captain. The team awards for each industry categories are based on the finish times.

Who is eligible to score on a company team?
Any registered participant who is a full time employee and who works for the company / organization for a minimum of 32 hours per week and employed with organization for at least 3 months.
A CEO/Entrepreneur (An entrepreneur has 3 or less full time employees)
Number of Participants Required for Team Scoring:

Men's Team - 4 full time male employees
Women's Team - 4 full time female employees
Coed team - 2 full time male employees and 2 full time women employees
How is my team scored?
Unique to this event, participants are responsible for remembering their own race times from the digital display clocks. Participants should move through the finish chute and locate his/her Team Captain or scorekeeper. We suggest your scorekeeper attach the results form or your roster to a clipboard and record the times as they are reported. 
To be included in the official results, the Team Captain must record all submitted times AND create scoring teams on manage.Hakuapp.com. The option to submit results and team scores will appear in the Team Captain admin page after 6:15 pm on race night. The admin options are mobile friendly! 

Team Scoring Rules
After the race team members report their finish time, exactly as it appears on the finish line clock, to the Team Captain or scorekeeper.
Team Captains cannot make corrections to team member times once team times have been submitted.
Team Scores must be submitted by noon on Monday, October 5th.
A participant may only be placed on one scoring team.
Only full time employees - employed with your organization for at least three months and working a minimum for 32 hrs per week can be placed on the scoring teams.
A company may submit multiple teams, i.e. IOA Women's A team, IOA Women's B Team, etc. Submit as many teams as possible and get recognized in the results!
Upon verification, if the race committee finds discrepancies with your company team, the entire company team will be disqualified.
Team Captain Instructions to Submit Times
Add times for individuals who have submitted their times, click save once time has been added. (Do not submit times until you are completely done. Once times are submitted, you will not be able to make changes.)

Once you've submitted your times, you can now create your teams for scoring.

Create scoring teams by dragging individuals to a team (men, women or coed).