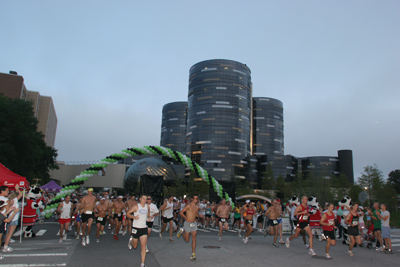 Thanks for the Memories
Thanks for the memories! Does that remind you of Bob Hope? These memories I'm referring to are those of Miracle Miles and
Dr. Gregor Alexander of the Alexander Center of Neonatology at Winnie Palmer Hospital for Women and Babies. Over 16 years ago, Dr. Alexander "convinced" Jon and our staff to produce a 15k in early fall to benefit this wonderful cause. It was a journey. It was always so hot on race day that our local runners nicknamed it Miserable Miles. But this same community of runners supported the cause and over the course of 16 years, over one million dollars was raised.
Central Florida runners and walkers raised over
one million dollars over the 16 years of Miracle Miles.
Although we are sad Miracle Miles is gone, we are pleased that fundraising for the neonatal unit continues on through the Orlando Health Foundation. The memories Dr. Alexander created will live on!
I think it is funny to talk about how fall (autumn) is coming. Can fall be any warmer? The past few months of summer have been long and oh, so hot, especially those long runs. I think this was the first summer I actually told Jon that, "no, I didn't really enjoy that run." How sad is that? Maybe that's why we constantly encourage one another that fall is really here. The roads of Central Florida are certainly busy with fall marathon training in full swing. Each June as Susan Paul and the training program team gear up to begin Marathonfest, we question our strategy of promoting training in this heat and humidity. But, that is why training with groups is so amazing. More than 700 runners are willing participants and on the roads this year, in our Marathonfest, Galloway and Bakers' Dozen programs.
October represents vivid fall foliage and…oops, wrong part of the country! But it does represent something even more important! This is the month we support the breast cancer cause. We at Track Shack remember when fellow employee, Donna, went through treatments that saved her life. Last year, Track Shack raised $10,000 for the Florida Hospital Breast Cancer Care Fund during our annual Ladies Night! This fun-filled social evening with so many friends and supporters of the cause, reminds us of all the women in our lives who have both survived and unfortunately succumbed to this horrible disease. It is so important to continue to raise both awareness and money to combat breast cancer; our many vendors help support Track Shack's Ladies Night including New Balance, Feetures, BaySix and Brooks, so we can all do our part.
Many of our local runners participate in fall and winter marathons, including Chicago, New York and Disney, and this requires months of training! While we all love a fun 5k on the weekends, many people crave longer events. We are excited to introduce another distance run in November this season. Our popular Run Nona event will also include a 15k showcasing the new Lake Nona Town Center. Jon is extra excited that Tavistock Group has initiated a prize purse for the event to entice top runners from around the country to participate! Soon to be 58, Jon is one of the most competitive people I know. I love that he still strives to qualify every year for the Boston Marathon…I may love running (except those horribly, hot days) after 40 years, but that competitive urge is gone. So, it thrills him to invite top athletes to participate in this first ever 15k at Lake Nona, it will be an amazing event to do but also to spectate!
Running has created a lifetime of memories for me. I remember in 1977 helping Jon (not even my boyfriend, yet!) pass out sale flyers for this new store called Track Shack, at the Tangerine Bowl Half Marathon! Can you believe that? This same half marathon, now, the OUC Orlando Half Marathon will be held on December 5, celebrating its 39th year! After all these years, we still run through the most beautiful neighborhoods of Orlando. The "race" continues for three men who have completed the previous 38 OUC Orlando Half Marathons. They remember the Tangerine Bowl, the Citrus Bowl Half, Burger King and Craig Sports Half Marathon! So many names for this iconic half, but still the one and only Orlando Half Marathon! I can't wait to cheer on Harry Wessel, Gary Kane and Alan Musante at the finish line once again as they continue their streak! Lots of memories, lots of fun and fitness combined. How fortunate we runners are and continue to be.
See you on the roads,
Betsy
Use Facebook to Leave a Comment
- We'd love to hear from you.