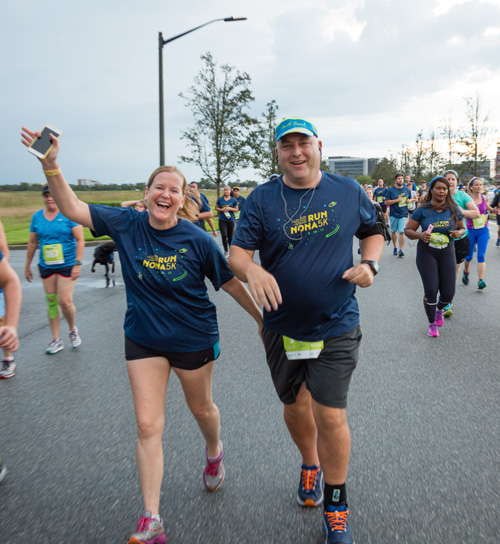 About this Race
It's a Block Party.
Experience the excitement of Lake Nona, an Orlando gem that brings the party! The race ends at a block party filled with trendy food trucks and fabulous music. Run Nona is celebrating 11 years! 
If you aren't running this year, but want to cheer on a loved one, we welcome you to join in the fun! The Nemours Kids' Run and Zone will occupy your littlest runners with activities geared specifically to engage them in a night of activity. 
Event Highlights
• Tech Shirt
• Nemours Kids' Run
• Block Party with Sam Adams
• Live Music by Cnergy
• Chip Timed 
• Team Competition 

Date, Time & Location
Saturday, September 28, 2019
3:30 pm: Registration and Nemours Kids' Zone Open
4:30 pm: Nemours Kids' Run
5:45 pm: 5k (3.1 miles)
6:45 pm: 5k Awards Presentation (Overalls and Top Lake Nona Residents)
Age Group Awards will be available for pick-up at awards table
Lake Nona Town Center
Tavistock Lakes Blvd. & Lake Nona Blvd. Intersection 
6941 Lake Nona Blvd 
Entry Fees
Registration is scheduled to open on June 1.
Processing fees will apply.
Nemours Kids' Run- Capacity 350
The Kids' Run is recommended for children 12 and under.
 $8 - Through Sept. 15
$11 - Sept. 16 - Sept. 28
$15 - Race day at race site (If spots available)
5k- Capacity 1,500 
$33 - Through Sept. 15
$38 - Sept. 16 - Sept. 28
$45 - Race day at race site (If spots available)
$38 - Virtual Race (Register by Sept. 28)
Not sure if you are already registered? Confirm your registration >>
---
Safety is our first priority!
Stroller/jogger operators start behind designated stroller signage in the 5k. View all restrictions >>

Walker Friendly Events
Keeping Central Florida Fit is our mission. Walkers are encouraged to participate in all Track Shack races. Municipalities require that road ways are clear of participants and opened as soon as the race is complete. That is why a maximum pace of 15 minutes per mile is set. If the pace isn't maintained, race officials will ask you to move to the sidewalk to re-open the roadways.