Due to potential exposure to COVID-19, also known as coronavirus, we have decided to cancel our annual Smile Mile Run scheduled for Saturday, March 28, 2020 and go virtual! Like you, we are disappointed, but clearly the health of your children and our running community is our focus. Young runners will receive their t-shirts, medals and bibs. We also encourage everyone to make the best of this situation and create your own at-home or at school running experience with your children and share the experience with us. See below for details! Thank you for understanding and for your patience.   
Have some family fun and do the Smile Mile virtually! Here's how:
1. Pick up your child's t-shirt, bib and medal at Track Shack or have it shipped straight to you for just $5! If you are already registered, you can add "virtual shipping" as a product to your current registration here >>
We will be hosting a drive up packet pick up at Track Shack on Wednesday, March 25th and Thursday, March 26 from 12:00 pm to 5:00 pm.
2. On Saturday, March 28, 2020, wear the shirt and bib, then go outside and do something for a mile: Run a mile, walk a mile, bike for a mile, or skateboard for a mile... you get the idea! 
3. Take a photo or video doing the mile and share it on social media, tag @OrlandoTrackShack on Instagram, TrackShackRun on Facebook and use the hashtag #TrackShackSmiles to be featured on Track Shack's email or social media!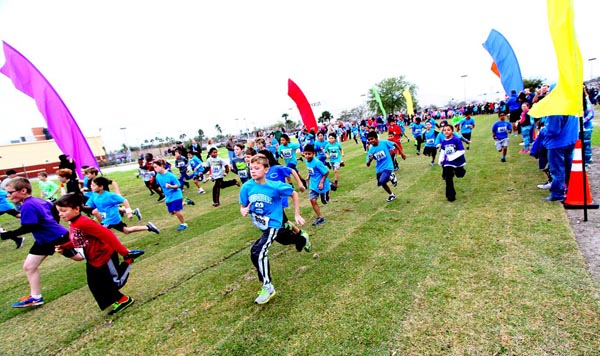 Date
Saturday, March 28, 2020
Entry Fees
Processing fees will apply.
$8  Through March 28

---
Coach "Sly" Johnson Participation Award
In honor of a dedicated coach and father who motivated so many young runners, the Coach "Sly" Johnson Participation Award goes to one school from each county with the most runners participating! To qualify a school must have a minimum of 25 runners participating.  School counts will be based upon registrations received by Friday, March 20th. A $500 grant and plaque will be awarded to the winning schools.
Who's in the Lead?
Qualifying/top schools from each county as of 3/20:
Orange
Orlando Science Elementary 158
Osceola County
Osceola Science Charter School 49 

Seminole
Galileo School For The Gifted Learning 90
Lake
First Academy Leesburg 52