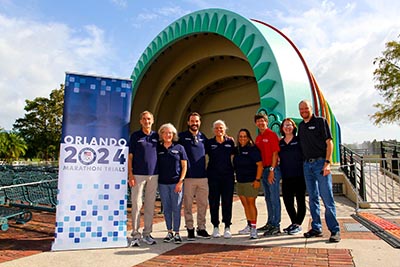 ORLANDO SELECTED TO HOST THE 2024 U.S. OLYMPIC TEAM TRIALS - MARATHON
Together with the Greater Orlando Sports Commission, the City of Orlando, and Orange County, Track Shack is thrilled to announce that Orlando will be the host city for the 2024 U.S. Olympic Team Trials - Marathon.
The Trials will be Saturday, February 3, 2024, in downtown Orlando. America's best runners will compete here for coveted spots on the U.S. Olympic team. The top three men and top three women finishers who meet qualifying performance standards will represent Team USA at the Paris Olympic Games!
"We look forward to a fantastic marathon on the streets of Orlando in selecting USATF's first six 2024 Olympians," said USATF CEO Max Siegel. "The competition is the culmination of months of preparation on their Journeys to Gold and we're excited to see great competition and fast times."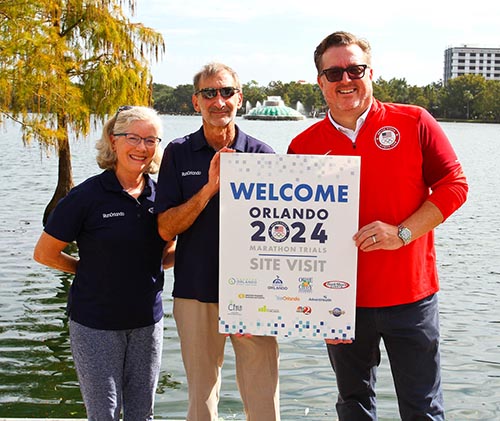 "On behalf of the U.S. Olympic & Paralympic Committee, I offer congratulations to the city of Orlando for being selected to host the 2024 U.S. Olympic Trials – Marathon and look forward to celebrating this great event on the road to Paris 2024 with the athletes, fans, and our partners at USATF," said USOPC CEO, Sarah Hirshland. "As the pathway for making Team USA, the U.S. Olympic Team Trials stand out as remarkable sporting events, and we have no doubt Orlando will welcome our elite runners and put on a world-class event."
"On behalf of City of Orlando Mayor Buddy Dyer, Orange County Mayor Jerry Demings, Jon and Betsy Hughes and the incredible team at Track Shack, and our Chairman of the Board at the Greater Orlando Sports Commission, Sharon Line Clary, we are thrilled to be awarded the 2024 Marathon Trials which will send three men and three women to the 2024 Summer Olympics in Paris, France. Thank you to USATF and the USOPC for selecting Orlando", said Jason Siegel, President and CEO, Greater Orlando Sports Commission. "As happy as we are for our regional community, we take even more pleasure in the fact that Betsy and Jon will have an opportunity to produce this event celebrating downtown Orlando on an international stage. For 45 years they have been the gold standard producing and operating running events across the United States and abroad. We are beyond confident that our leadership team, local organizing committee, and community, in partnership with USATF and the USOPC, will deliver a world-class event and world-class experience for the athletes, partners and running enthusiasts visiting the City Beautiful from around the globe."
"We're honored that Orlando is the first city in Florida to host the U.S. Olympic Team Trials - Marathon. Central Florida has a rich history of developing Olympic caliber runners including current and past US world champions and Olympic medalists," said Jon Hughes, co-owner of Track Shack Events, part of the local organizing committee. "Our team has assembled a stellar Athlete Advisory board including 1996 Olympic team marathoner Keith Brantly, Jenny Simpson, World Champion gold medalist and Olympic bronze medalist and Meb Keflezighi, 2004 Olympic marathon silver medalist who now resides in Tampa. Together with these three amazing athletes and our supportive running community we will create an epic Olympic Trials experience for all!"
Use Facebook to Leave a Comment
- We'd love to hear from you.