Out of Office Team Work
What does it mean to team up? It means to join together to launch a product or band together and do something great for the community.
Last night at the IOA Corporate 5k, 17,491 runners and walkers representing 750 corporations and non-profit organizations teamed up and demonstrated just that!
Adventist Health System teamed up to win the IOA Team Spirit Award as the largest company with 700 runners and walkers.


IOA Corporate 5k teams rallied together and contributed food and funds to the 100 Meal Team Challenge, surpassing the 25,000 meal goal and contributing 80,000 meals (and counting) to Second Harvest Food Bank and the Christian Service Center. This is an amazing example of what is accomplished when we team up!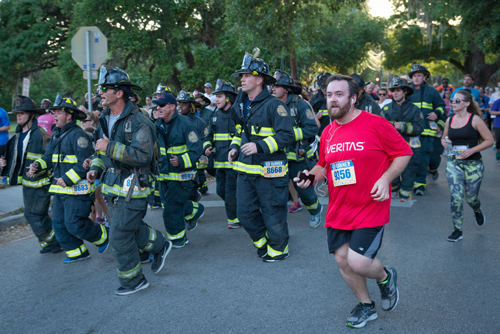 First time IOA Corporate 5k runner Joe Farrand recently moved here from Kansas to work (and run) with the Rosemont Elementary running Eagles. He won in a time of 15:44. In 2015, Principal Patty Harrelson was the Female CEO winner. "Joe is an incredibly talented music teacher, and a gifted athlete. He is a beloved member of the Rosemont Elementary family, and the fact that he runs a 15 minute 5K just adds to his awesomeness, says Harrelson."
Ragnhild Kvarberg, with Aerodyne, a mother of three on a family vacation from Norway ran a blistering time of 16:48 to become our IOA Corporate 5k female champion!
Hats off to all our team captains who work tirelessly during IOA Corporate 5k season to gently encourage their co-workers to join the company team and participate, many for the first time.
This year 8,452 people indicated this was their first Corporate 5k. We salute all the nominees for the Orangetheory Fitness Workplace Wellness award and winner Trevor Jordan of Walgreens, for their passion for health, fitness and employee wellness. "Starting something new takes courage. To say yes to one's team captain then show up and participate in a group activity like the Corporate 5k is empowering," says Betsy Hughes, co-owner of Track Shack. "For many it's the beginning of a healthy lifestyle."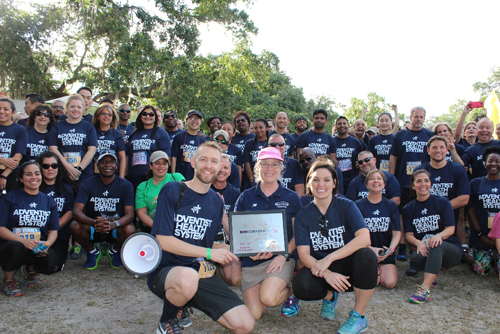 Quick Links
Adventist Health System 700
Orange County Government 459
Florida Hospital 401
The Walt Disney Company 399
Lockheed Martin 291
Top Five Contributors to the 100 Meal Team Challenge benefiting Second Harvest Food Bank and Christian Service Center
Jackson Therapy 10862
Insurance Office of America 9200
Greenspoon Marder 5160
CRU 4000
Bonnier 2000
Use Facebook to Leave a Comment
- We'd love to hear from you.