Thursday, May 4, 2023
4:00 pm – Lake Eola Opens 
5:30 pm – T-Shirt Design Award/ Largest Team Award
5:45 pm – Runners line up on Central Blvd. (3 Corrals)
6:00 pm – Walkers line up on Eola Drive
6:15 pm  – Runners Start
6:25 pm (Approx.) – Walkers Start
7:15 pm  – Overall Male/Female Award 
Lake Eola
Orlando, FL 32801
About this Event
Businesses and non-profit organizations form teams, in person or virtually, and participate in the SimplyIOA Corporate 5k presented by Key HR for camaraderie, friendly competition and celebrating with co-workers. 
Don't have a team? Join the Track Shack Fitness Club team! 
All Participants Receive:
8-Week Training Plan
Event Bib
Event Shirt
Customized Finisher Certificate
Ride SunRail free to and from the race with your bib number! 
Beneficiaries
Proceeds are donated to the Track Shack Youth Foundation and Second Harvest Food Bank of Central Florida. Click here to learn more about these beneficiaries and their impact on the Central Florida community.
Are you a new Team Captain?
Team captains are the heart and soul of the SimplyIOA Corporate 5k presented by Key HR. Team captains are responsible to create the team, recruit members and encourage company participation. 
News and Updates 
Upcoming Deadline
• March 31, 2023: Team name on bib deadline
• April 14, 2023: Deadline to submit t-shirt design for the T-shirt Design Contest
• April 17, 2023 – April 21, 2023: Vote for your favorite T-shirt design on the Corporate 5k Facebook page.
• April 21, 2023: Last day to register to get included in team invoice (if your company is paying for all employees). Teams can still be created online after this date, but individual payment will be the only payment option.
• April 21, 2023: Deadline to approve or deny participants; all participants will be approved after that date.
• April 21, 2023: Deadline to transfer a registration from one participant to another.
• April 24, 2023 Team payment due. Generate and pay your invoice online! Checks should be made out to Track Shack Fitness Club. Invoices can be generated and paid for before the due date. 
• April 27, 2023 - May 3, 2023: Team Captains must pick up team box for all participants registered by 11:59 pm on April 21. Team must be paid in full. Participants who register between April 22 - May 3 can pick up individual race number and shirt. Track Shack is located at 1104 N. Mills Avenue, Orlando, 32803. To request individual pick up for your entire team, please email info@corporate5k.com. Team must be paid in full.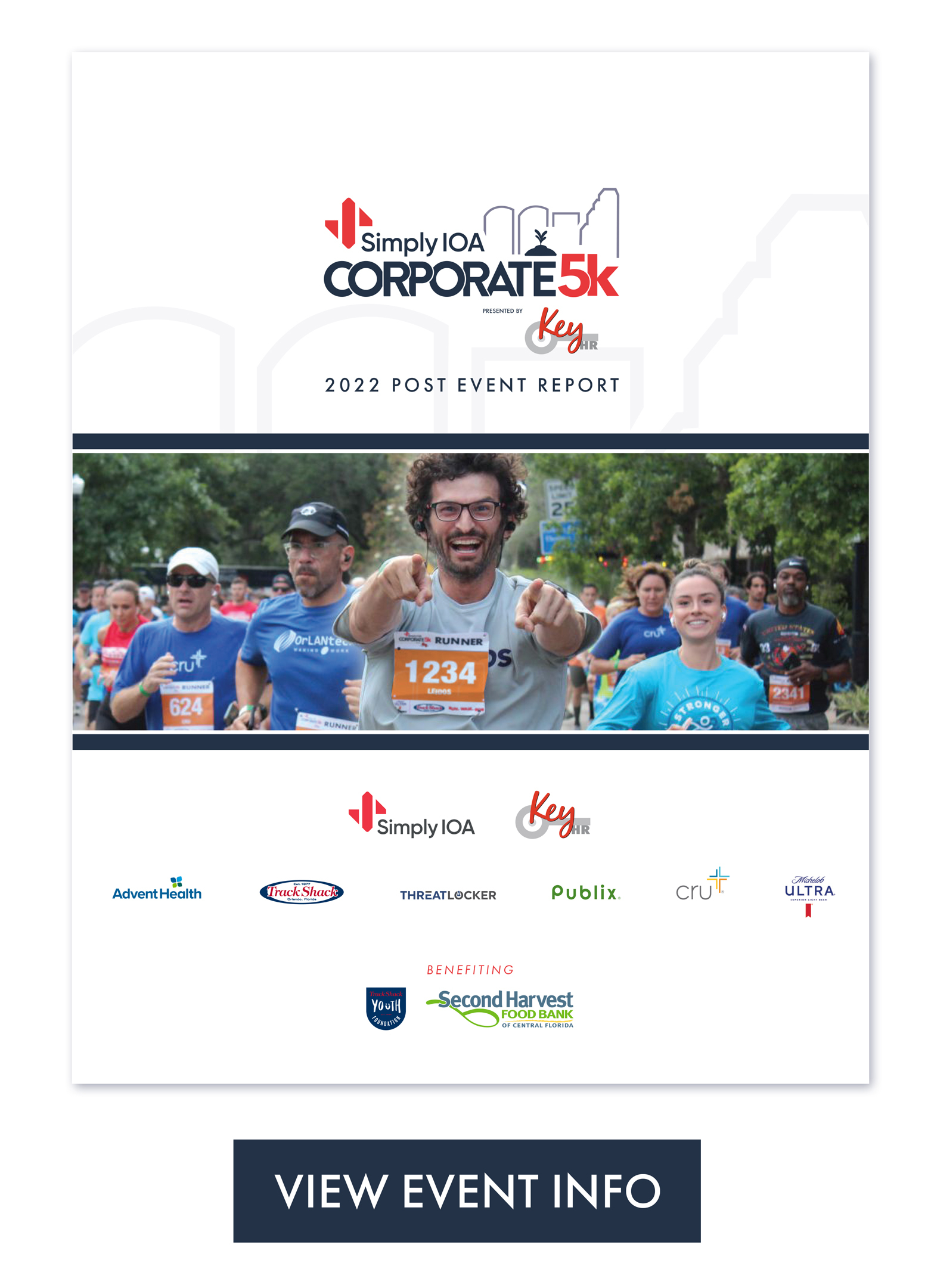 2022 Recap
It was obvious participants in the 2022 SimplyIOA Corporate 5k presented by Key HR were glad to be back to some much-needed togetherness.  On Thursday, April 21st in downtown Orlando a collective cheer could be heard from 7,300 athletes representing 336 local corporations and non-profits, many who've spent the last two years working apart.  At last, we could run and walk together and provide food assistance for local families, friends, and co-workers. Together participants contributed almost 115,000 to Second Harvest Food Bank! Read more >>