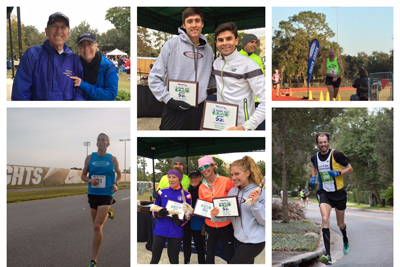 Who's in the Running For Track Shack Running Series Awards?
Through five races on the Track Shack Running Series, the point standings have been updated and the competition is fierce!
Now is the time for those vying for Running Series awards to double check the standings and let us know about any point discrepancies. Awesome cash, merchandise prizes, and of course bragging rights, are awarded to the top overall and age group finishers. View the standings >>
The stat enthusiasts who pour over the results will notice that in the overall and age group categories, some divisions are close, please see below! Look for the winners to be determined on March 12 at the Zimmerman Kiser Sutcliffe Winter Park Road Race presented by Florida Hospital.
For those not as familiar with the Track Shack Running Series concept, since 1978 the series has followed a Grand Prix format that uses a points-based system based on results from each race. Runners who score in the top overall or top age group positions receive points at each of the six series events.
It's a healthy sign of the times to see the robust participation and dedication that spans the age spectrum from age eight to 80!
Please email info@trackshack.com with any questions on the point standings.
Use Facebook to Leave a Comment
- We'd love to hear from you.