The Baker's Dozen - A Half Marathon Program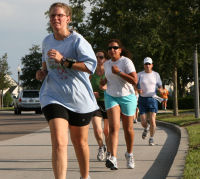 This training program meets: TUESDAY/THURSDAY/SUNDAY

If you can run 3 miles, you can run 13.1 miles! Train with us for the Orlando Half Marathon.

The Baker's Dozen is a Half-Marathon training program designed to prepare runners for the OUC-Orlando Half-Marathon and/or the Disney Half-Marathon. If you are running 3 to 4 miles, several times a week, then you are ready to build to the half-marathon distance. This program begins in September and meets on Tuesday, Thursday morning or evening, and Sunday morning.
Session

One session per year: Sept-Jan

Upcoming Session

Tuesday, September 8, 2015 -  Sunday, January 10, 2016


3 Days / Week

Tuesdays - 5:00 am or 6:00 pm workouts - Speed workouts at the track
designed for distance training

Thursdays - 5:00 am or 6:00 workouts - Hill and tempo runs building
strength and endurance

Sunday - Start times vary: 4:00 am - 6:00 am - Long runs building
endurance with gradual incremental increases in mileage.

Prerequisite

4 miles on the first weekend run

Sunday Pace Group

Pace ranges: 9:30 – 11:45 minute miles

Fee

$95

Registration- Closed

Contact

Susan Paul, Training Program Director
susiwellness@gmail.com
407.920.1177
Program Benefits

A training schedule 

Coached workouts

Weekly e-mails

Runs supported with water and/or sports drink 

Discount Card for merchandise at Track Shack 

Access to Florida Hospital professionals 
Sunday Pace Groups
Baker's Dozen  participants joins with the Sunday Pace Group.  Sunday has a pace range of 9:30 to 11:45 minute miles. Pace Group Leaders plan the running route to accommodate various mileage needs and set the appropriate run pace.

Targeted Races & Mileage for the First Weekend Run
OUC Orlando Half Marathon............4 miles
Disney Half Marathon.............4 miles

Training Locations
TUESDAYS - Attend the 5:00 am OR the 6:00 pm Track Workout
5:00 am at Glenridge Middle School track, Orlando
6:00 pm at Glenridge Middle School track, Orlando
Runners should arrive 15-30 minutes EARLY to warm up BEFORE the workout begins

THURSDAYS - Attend the 5am OR the 6pm Tempo or Hill Run Workout
5:00 am at Glenridge Middle School, Orlando
6:00 pm BEHIND Glenridge Middle School, Orlando

Runners should arrive 15-30 minutes EARLY to warm up BEFORE the workout begins

SUNDAYS- 505 N. Park Ave., Winter Park. Meet in the parking lot  behind the shopping plaza

Field Trips
Occasionally will take some field trips to Apopka and Clermont for hill training on some of our weekend runs. Detailed information will be provided in the weekly emails from the Program Director and your Pace Group Leaders. Make sure you are receiving the weekly emails to stay informed! Start locations »

Rain Policy
Training programs run in the rain! Coaches are present for every workout and workouts are only cancelled if lightning is present in the area at that time.

Refund and Late Policy
RUNNERS REGISTERING AFTER THE START DATE WILL BE CHARGED AN ADDITIONAL $25 FEE. The training fee is non-refundable.

Restrictions
For safety reasons, baby joggers/strollers, bicycles, rollers skates, in-line skates, and dogs will be prohibited from the training sessions. years of age or older.

NOTE: The Track Shack Fitness Training Programs are designed for persons over the age of 18. Persons younger than 18 interested in training, should check with their school for running/fitness programs or check outCheetah Running Club.
Registered participants not receiving e-mails should contact Susan Paul at susiwellness@gmail.com.