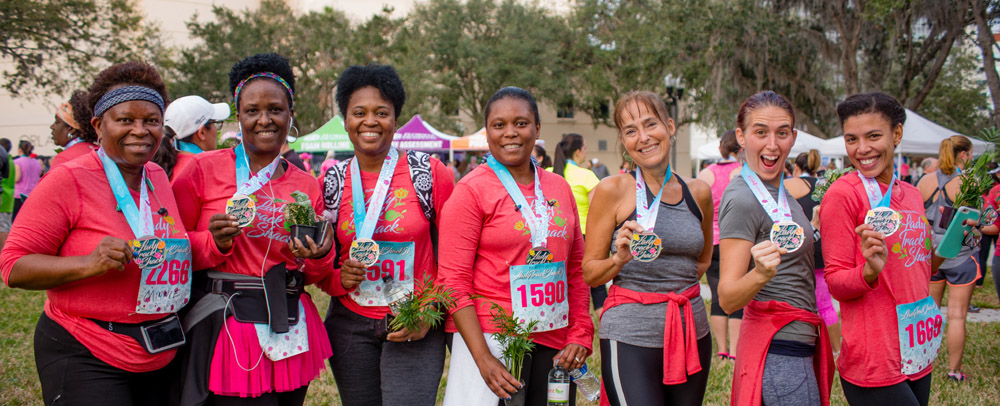 Tech Shirts, Plants and Medals
Girls just want to have fun! Registered participants receive a long sleeve tech tee, a plant and a medal!
Pre-registration is strongly recommended. Sizes not guaranteed day of race. Event capacity is 2,500. 2020 shirt and medal pictured.
Tech Shirt - Participants receive a long sleeve tech shirt! Made with performance jersey, it's lightweight and breathable.
Finisher Medal - 5k finishers receive the pretty and sparkly medal! 
Finisher Plant - Some people are all about the medal; other's are all about the plant. As it grows big and strong, it is your reminder that you were part of a beautiful gathering of women. Just like nourishment for your plant, together we grow stronger, healthier and in better condition. 
---

Fund A Mammo.
$135 provides a mammogram for someone in need. Be among the first to raise or donate to qualify for prizes. Start fundraising today!
---
Cancer Survivors
All cancer survivors receive a special race number. Please check survivor category. Survivors receive a special gift! 
Register by December 25th to have your name on the race number.
---
Kids' Run
Kids' runs are free for all children. Children will be placed in age appropriate groups. Registration is on race day at race site. Free t-shirts in youth & toddler sizing are available to registered participants on a first come, first served basis. All participants receive a finisher's ribbon!" 
---
Be sure to wear your bib number on the front using all four pins so that it's visible to photographers! Visit www.bbactionphoto.com to view race day photos. Participants will be notified by email when photos are ready for viewing!