Personal Hydration: How Runners Can Reduce Their Environmental Footprint at Races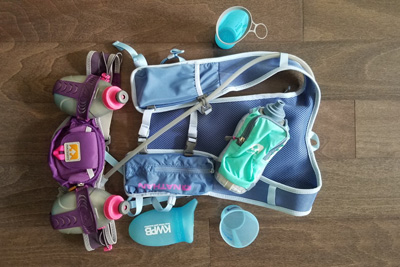 Abby Slauter, Sales Associate at Track Shack
Sustainability matters!

Running and sustainability go together like peanut butter and a banana before a long run. We run to sustain our bodies and minds, and we run to be outdoors. Track Shack loves the environment just as much as we love running- a natural fit for our home in the progressive Mills 50 district here in Orlando. As leaders in the running industry, we have taken big initiatives to reduce the environmental impact of our races. Our OUC Orlando Half Marathon recently earned a Gold Certification from the Council for Responsible Sport, making it Florida's most sustainable race.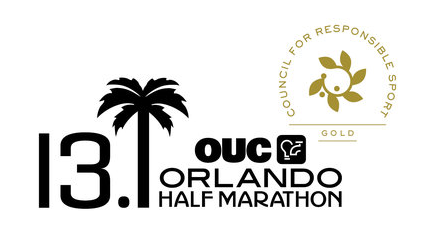 This is a big deal, and Track Shack is proud partner with OUC - The Reliable One and Sustainable One, to set the pace for the future of sustainable events.
Track Shack Events is working toward being bottle-free in the 2019-2020 race season.
Each event draws thousands of runners and walkers. Imagine the waste we can eliminate if our participants brought sustainable solutions with them. With your help, we will accomplish our mission. Here are a few products you can use to reduce your own environmental footprint as a runner or walker.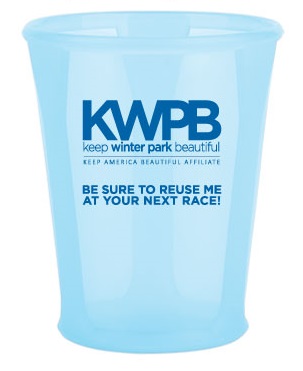 If you have participated in our Run for the Trees 5k race in the past couple of years, you have probably noticed that we have incorporated reusable cups as participant gifts. This year, runners and walkers received the UltrAspire cup, which I absolutely love to bring to my training sessions. It folds up and stores in my pocket when not in use and pops right back into shape when I'm ready for a drink. Carrying my own reusable hydration vessels makes a ton of sense for the training I do with our programs, MarathonFest and Five and Dime. My HydraPouch from 2018's Run for the Trees holds double the liquid of a paper cup and doesn't go into a landfill after I've used it once. The water tastes a lot better and stores handily once I'm done drinking. These reusable cups are my go-to for speed work and runs where I know I'll have access to water fountains or coolers to refill as needed. They are made from a lightweight but durable, BPA-free silicone, which is comfortable to run with and drink from. And, they are easy to keep clean since they are top-rack dishwasher-safe. Of all the hydration products I own, these little cups see the most use. I don't know how much waste I've eliminated in the 14 months I've been training with these pouches, but it's a lot. Several cups per training session times 2-3 training sessions a week adds up quickly.
For my longer runs or trail runs, I've been loving two of the Nathan products we carry in our store.

My Nathan Women's Quickstart 4L Hydration Vest has been a game-changer that has allowed me to run in places I would ordinarily avoid for lack of water stops. I chose this vest because of its bladder and storage capacity for its price point, and it has exceeded my expectations. I worried that I might get too hot running with a vest in 80-degree weather, but I find that the hydration bladder actually keeps my body temperature a few degrees cooler when it is on my back. It is easy to fill and clean and I have yet to run out of water thanks to its capacious 1.5-liter bladder, which is included. We also carry insulated options and models which can hold additional water bottles as well as women-specific fits. I recommend coming in to try a few on and see what feels right for you.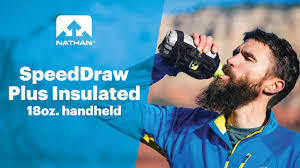 Sometimes Florida gets too humid to run in much except a sports bra and shorts. When I run shirtless, I opt for my insulated handheld Nathan SpeedDraw Plus Insulated Flask with some ice cubes thrown in. Even on the hottest mornings, my water stays cool and I can refill easily on the go. I chose the larger 18-ounce handheld, but there are smaller bottles if you prefer to carry a little less. This bottle doesn't leak but only requires a squeeze if I want a fast drink on the go. The double-insulated wall features Nathan's Hi-Viz reflective print, increasing your visibility to cars and therefore your safety. All of the Nathan handheld bottles we carry feature a reflective hand strap, which allows you to run with a natural and comfortable grip and adds the security of knowing you won't drop your bottle during your race.
One thing I love about both of these products is that they also have storage for my phone, keys, and nutrition so that I don't have to wear a separate run belt. Of course, some runners prefer to carry water on their belts, and we stock options by Fitletic and Nathan for you, too!
Whether you need an advanced vest for your 100-miler ultra or are a casual jogger who wants to do your part to help the environment, we have a hydration solution for you. Come by the store and talk to one of our experts about the many different ways you can help make running a sustainable sport!
Track Shack is a specialty running/walking store that has been serving the footwear needs of Central Florida's fitness enthusiasts since 1977. Our experienced and knowledgeable staff takes each person through a custom fitting process.
Shoes and feet are our business but people are our specialty! Now that you're here, walk through our user-friendly website and welcome to the Track Shack family!

Use Facebook to Leave a Comment
- We'd love to hear from you.