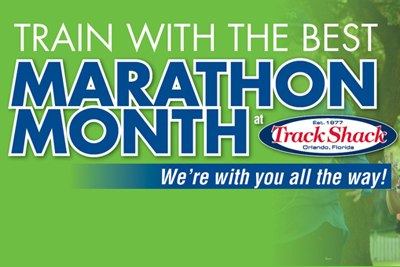 Planning Your Next Endurance Race
During Marathon Month we have free events, an information session and motivation to help make your next endurance race the experience of a lifetime!

April 29 - May 15 – Getting Proper Equipment
Stock up on Feetures Socks Buy 3 Get 1 Free!
Saturday, May 7- Learn About MarathonFest and Galloway Training Programs
Group Training Info Session
10:00 am at Track Shack
Q & A with Program Directors Laura Williams (Galloway Program) and Susan Paul (MarathonFest) to find out which training program is for you. This meet up is ideal for the runner or run/walker that is considering training for a fall marathon or half marathon and wants to know the ins and outs of training with one of our groups!
View training program info
Monday, May 9 – Healthy Living Series Event
Topic: Women's Health
6:00 pm at Track Shack
Diane Mancini is an ARNP-C, Family Nurse Practitioner at McCarus Surgical Specialists with extensive clinical experience and well-woman expertise. Diane is a runner who sees female runners in her practice. She'll share info on meeting the challenges of training for an endurance event.
Free – Call 407.898.1313 to register
Monday, May 16 – Learn to Run Better
Good Form Running Clinic
5:30 pm at Track Shack
Free – Call 407.898.1313 to register
Tuesday, May 24 - OUC Half Marathon One Day Deal!
Register! Jump start your training season. Register for the 40th OUC Orlando Half Marathon and receive $10 off half marathon registration.
Use code: IMIN16 (Valid until 11:59 pm EST on May 24)

Every Wednesday – MidWeek Group Run at Track Shack
Our group runs are social; the course is roughly three miles and people of all ability levels are welcome.
6:00 pm
Free
Saturday, June 4 – Galloway Program Kick Off
Galloway Kick-off
6:30 am at Glenridge Middle School track – 2900 Upper Park Road Orlando, FL 32814
Join us at 6:00 am for the Program kickoff on June 4 at the Glenridge Middle School track. This is open to the public, so you can join us for the kickoff and register that morning!
Tuesday, June 7 - MarathonFest Begins
Use Facebook to Leave a Comment
- We'd love to hear from you.