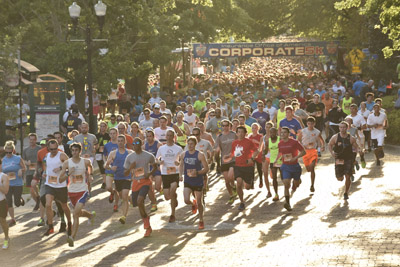 Start of Something Big
While last night's IOA Corporate 5k seemed like a big-time race in downtown, it didn't start out that way. In 1995, there were about 2000 runners and walkers which was considered a big local race at the time. It's great that so many companies have continued to participate since that first year. IOA is one company that comes to mind. Comment below how many years has your company done the Corporate 5k.
Fast forward to the 22nd IOA Corporate 5k, a picture-perfect night at Lake Eola where 700 companies gathered in the heart of the city celebrating running, walking, camaraderie at work and community caring. It's thrilling to see the corporate community respond by contributing 24,000+ meals to Second Harvest Food Bank and the Christian Service Center. People were still donating last night, so stay tuned for the final tally!
For Fredison Costa, the race was practically a walk in the park for the five-time Walt Disney World Marathon champion winning his first IOA Corporate 5k in 15:54.
Team Track Shack runner Heather Schulz took time out of her Boston Marathon training to win her first ever IOA Corporate 5k women's title in 18:37!
Orlando's fastest CEO's are Rob Krueger of Wieland who ran 20:44 and Melanie Fernandez of BDO USA, blazing through in 26:05. Melanie is the President of Track Shack Foundation.
Over 7,942 participants said that the IOA Corporate 5k was their first 5k. Search the hashtag #IOACorporate5k to see the impact of saying "yes, I'll join the team!" Setting a goal, training for the distance and adopting a healthy lifestyle can be the start of something big!
Take great energy from last night and keep moving forward. If you need help keeping the momentum going here are a few ideas:
•Sign up for another event, run to TrackShack.com for a calendar of events
•Meet up with us weekly at Track Shack for free group runs for runners and walkers.
•Join a group training program
•Make sure your shoes are in good shape for the road ahead
•Keep high fiving each other and caring about others. There's joy in lifting others up. It's good for the spirit!
If your company started something big at the IOA Corporate 5k, how will you keep the momentum going year round?
Use Facebook to Leave a Comment
- We'd love to hear from you.