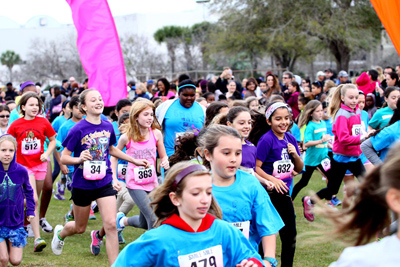 Running for the Fun of It
One of the most exciting moments in a parent's life is watching their child take their first steps. The sweet little wobble, the questioning expression on their face and the scrunching of the eyes as they struggle to balance upright for the first time is a lasting memory. On your mark, set and go! Running is just as natural as walking for most little ones and sets the tone for a lifelong adventure of health and wellness.
Track Shack running events include free, fun kids' runs as we continue to encourage the community to exercise. The distance varies but even toddlers run for fun in our 100-200 meter dashes. As the little ones mature the distance extends to a ¼ mile (one lap around a track) and some of our five to seven year olds challenge themselves in our free mile run. Parents often wonder what age is deemed appropriate to enter their child in a 5k or 3.1 mile event. At Track Shack we have worked with doctors and therapists for many years to help with this decision and consider age eight to be appropriate to be running the 5k distance. Life is full of exceptions and although we feel this is the right age for most, there are younger children who probably can attempt this distance and there are some that can't or shouldn't until they are older. In reality, each parent needs to make this decision for their child. Most children's growth plates aren't ready for long distance running.
One of our favorite runs each year is the Smile Mile! We began this fun children's running event over 25 years ago and last year we had over 2000 participate. Thanks to the many great elementary school coaches who have running clubs and encourage their students to run two or three times a week , the Smile Mile is a favorite! Boys and girls, age six through 11 participate in a mile run on a secured path lined with volunteers every March. Our five year old runners do a ½ mile loop and of course, we have our kids' run as well. We have seen many of these young runners grow to be cross country and track athletes at the high school and even college level. In fact, there is research indicating that high school cross country runners often are the school's top scholars as well.
Better grades and better eating habits are two examples how encouraging your child to a healthy lifestyle is so important. Often the entire family changes their habits as well. Track Shack opened more than 38 years ago and working there was one of my first jobs. As it turned out Jon and I made a career out of having a passion for running. Our Saturday mornings often involve producing one of many Track Shack events and our own children were always with us. Now, as adults they continue to enjoy running for pleasure. Even our moms are super stars at the local 5k's, and as they approach their late 80's we may have to create another age group just for them! Running truly is our family's healthy lifestyle's connection.
I started running when I was 14 and getting good running shoes was a number one priority. When to invest in running shoes is an important consideration because so many children are running and exercising at a younger age. Our shoe buyer, Anthony O'Neill, states that the time to be fitted for an actual running shoe is when your son or daughter joins that first running club or is training one or two days a week with their parents. Little ones who participate in our shorter kid's runs can often wear whatever is comfortable. Our son, Chris used to do the kid's runs in his red cowboy boots! But, once the run becomes up to a mile in length, one to three times a week, and shoes become a necessity. Most children's running shoes start at size one and go through a size seven which is typically the start of adult sizing. It is always fun to pick a shoe based on color but we do like to size each customer, even kids, with the proper fitting shoe.
Use our website to find for more information on kids' running clubs and a calendar of events.
Hope to see you on the roads soon and enjoying a lifelong love of an amazing sport!
Betsy
Use Facebook to Leave a Comment
- We'd love to hear from you.