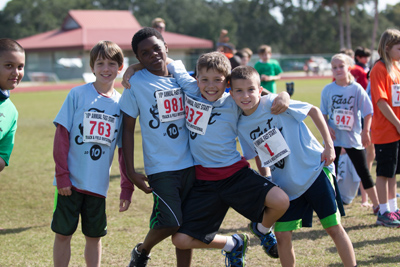 Track Shack Foundation Year in Review
Looking ahead to 2016, the Track Shack Foundation invites the community to celebrate the successes you've helped us achieve over the past year.
Together with generous race sponsors, contributors and thousands of runners and walkers, the Foundation granted $126,733 to 92 local school and club organizations that serve 38,631 members of this community!
Financial support of these outstanding programs is made possible by runners and walkers who actively take part in Track Shack events. Race proceeds positively impact the community and improve the quality of life for so many. When you run, kids get to play!
Evidence of real impact on our youth is what shines through when you see children learning to swim, developing teamwork skills or setting a goal to compete at a higher level. This year the Foundation received additional community support from Saucony, New Balance and Jewett Orthopaedic Clinic to help us carry the mission forward – promoting youth health and fitness!
The Track Shack Foundation announced four trustees including Jason Kaiser, CCIM of SRS Real Estate Partners, Rebecca Church of Massey Services, Charles Cook of BB&T and Bill Vanos of Lowndes, Drosdick, Doster, Kantor & Reed, PA.
The Track Shack Foundation is a 501 © (3) organization that helps provide health and fitness opportunities to Central Floridians through the funding of youth athletic programs. To find out more about the Track Shack Foundation, to donate or apply for funds, please visit TrackShackFoundation.org
Use Facebook to Leave a Comment
- We'd love to hear from you.