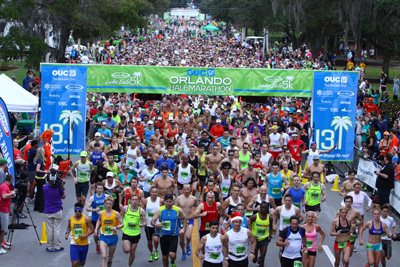 Orlando: America's Best Running City
As runners we love to travel and run races in different cities perhaps on a 50 state race quest, or to keep active while away on business.  Running takes you off the beaten path into the culture of a community and is a great way to explore.
Orlando was recently named the Best Running City in America!  The study, conducted by Vitals, was based on the number of marathons or half marathons hosted by the city, number of participants in the largest city-hosted race, average number of runs per person, and quality ratings and access to sports medicine physicians and orthopedic surgeons.  
This prideful recognition is to be shared across metro Orlando's cities and towns and a vibrant running community that has helped the City Beautiful to be named the TOP running city among some very tough competition. View rankings >>
We certainly agree with the study, but what else makes Orlando a great running city?

1. Ability to run year round – indoors or outdoors.  
Even runners training all summer for fall full and half marathons find a way to put in major miles before the sun comes up. Race distances are shorter but two of our largest 5ks are held in the summer months, the Watermelon 5k (3000+) and Celebration of Running 5k (2500+).  

2. Unique races that attract runners worldwide. 
This is made possible by visionary sponsors such as runDisney, OUC, IOA and Florida Hospital who are active in sustaining Orlando's largest races at the 5k, 10k, half marathon and marathon distances. 

3. Great partnerships with Central Florida municipalities who recognize the importance of creating healthy communities.
Establishment of sidewalks, trails and pathways promotes pedestrian activity and that in turn offer visitors the ability to stay in shape while traveling for recreation or business travel.  Find a local route >>
4. Access to quality sports medicine, orthopedic surgeons.  
Central Floridians are fortunate to have abundance of healthcare options that keep everyone from elite athletes to weekend warriors injury free and on the road, path or trail.  Florida Hospital and its sports medicine team of doctors, athletic trainers and physical therapists have been supporting runners in the five county area for over 25 years.

5. Training Opportunities
Abundant training opportunities for all ages and abilities that are free or relatively low cost.  Find a running club or group!

6. Opportunities to get started at any age!  
Inspiring a love of running at a young age has been at the heart of Track Shack with the establishment of the Track Shack Foundation and free kids races.  Today, developmental youth programs can be found through a vibrant school and running club system in and around Central Florida.  Social and beginner friendly adult group training programs are flourishing locally and are designed to encourage the new runner or run/walker.  Group training programs >>
Want more resources? Start here!
What is your favorite running city and why?
Use Facebook to Leave a Comment
- We'd love to hear from you.