My New York City Marathon Story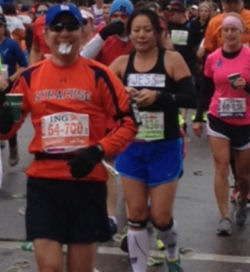 By Gene Yasuda
In a mad scramble to break five hours, I dashed across the finish line of the 2013 New York City Marathon and just kept on running. And running. And running.

At first, I was puzzled why I hadn't crumpled to a halt like I typically do when completing a race. I guessed that I was afraid to stop, uncertain whether I had beaten The Clock. In a daze, I continued trotting until clumsily rear-ending the runners ahead, who were stuck in a bottleneck waiting for their medals, souvenir photos and recovery bags.

That's when I heard a race official yell.

"Hey, you finished! You can stop running now!"

At my own foolishness, I chuckled. I took a couple of quick breaths to compose myself. But then a wave of emotion flooded over me, leaving tears in my eyes. That's when it dawned on me why I couldn't stop: It's hard to do when you've been running seemingly forever.

• • • • •

My journey began long before the hours it took to complete the 26.2-mile trek through NYC. It started far beyond the 17-month stretch it took to transform me from a jogger into a marathoner. It actually began more than four years ago when I first turned to running as an escape. I needed refuge from the fears and worries that threatened to consume me while caring for my wife, Jay, who suffers from Hepatitis C. Together, we've endured the ravages of the disease, which required a liver-transplant surgery in 2006. But Hep C is relentless, and it already has done extensive damage to the donor organ Jay received. To stay alive, she will need another transplant, sooner likely than later.

It's difficult to describe the helplessness one feels when seeing a loved one suffer. Hepatitis C affects nearly 4 million people in the U.S. More people are infected with and die from Hep C than HIV. Though its symptoms can go undetected for years, the disease inevitably will scar the liver and lead to an array of health issues, including debilitating fatigue, swelling, chronic pain and depression. Though all these issues are difficult to handle, for me, nothing was worse than the night following Jay's transplant. My friends kept vigil with me in the waiting room of Shands Hospital, a transplant center at the University of Florida. After enduring a six-hour operation, I finally was allowed to visit Jay in the intensive care unit. In the dimly lit room illuminated mostly by the blinking lights of monitors, I witnessed an image that still haunts: My wife, strapped to her bed, with IVs and tubes stuck in her. Looking ashen, her eyes filled with fear, she opened her parched lips and pleaded: "Take me home. I can't do this." After the nurses eventually ushered me out, I found an empty hallway and slumped against its walls. I prayed. I cried.

After 33 days in the hospital, undergoing additional surgeries to overcome complications, Jay and I finally were able to go home. For the past several years, I've watched my wife battle daily with Hep C. Truthfully, it's not a fair fight. It constantly knocks her down, but Jay always gets back up – to care for our children, to help friends and family, to love me.

I needed running to cope with it all. But somewhere along the way, with each step I took, running inexplicably renewed my hope and faith. It made me stronger. In May 2012, I decided to run in the New York City Marathon by raising money for the American Liver Foundation. Jay and I were overwhelmed by the love and support we received. The decision freed me from feeling helpless; it allowed me to take action and contribute to a solution. But never having run 26.2 miles before, I needed help to train for the race. I registered for Track Shack's MarathonFest program. All I expected to receive was some coaching advice and access to Gatorade stations during training runs. What I actually got was so much more.

Running in the wee hours of the morning, every Saturday, for 22 consecutive weeks, mystically develops a kinship with fellow runners like I've never experienced before. Although I'm a night owl by nature, I soon found myself practically leaping out of bed on the weekends, so eager to join my new friends for our pre-dawn adventures. I've never been around so many people committed to getting the most out of life. Their energy, support and shared understanding of the dedication and work required to reach our common goals not only emboldened, but inspired. With their help, I became marathon-fit, and on Nov. 2, 2012, I flew to NYC, fully prepared to tackle my first marathon two days later. But just two hours after arriving at my hotel, my dream ended. After assuring participants all week that the race would go on, Mayor Michael Bloomberg canceled the marathon, citing the turmoil and devastation left in the wake of Hurricane Sandy. So, I returned to Orlando. And kept running.

• • • • •

Sitting aboard the Staten Island Ferry, it felt surreal to be passing the Statue of Liberty en route to the base of the Verrazano-Narrows Bridge for the start of this year's NYC Marathon. I couldn't believe that after all the waiting, all the training – I had run more than 1,700 miles since joining MarathonFest – race day finally was here. When the starting cannon boomed, it jolted me back to reality. As I took my first steps, I told myself to take it all in, absorb the sights and sounds: Fellow runners of every shape and size streaming on to the bridge. Firefighters cheering from atop their engine ladders. Sinatra's "New York, New York" blaring from the speakers.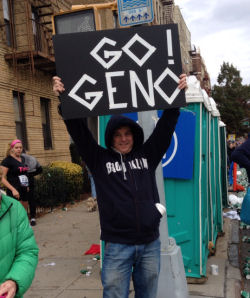 As dutifully as I tried to remember everything, the task proved impossible because running the NYC Marathon is nothing if not a sensory overload. Nearly two million spectators and 12,000 volunteers line the streets, cheering on runners through each of the city's five boroughs: Staten Island, Brooklyn, Queens, Bronx and Manhattan. All I can recall are flashes of memories: My college roommate waving a "Go, Geno!" sign at mile 3; gospel choirs belting out tunes of glory; a porta potty – with no lines! – at mile 13 (of course, I used it), a human canyon of support engulfing 1st Avenue. I felt as if the entire city was hosting a ticker-tape parade just for me and 50,000 of my closest friends. All that was missing was the confetti.

From miles 20 to 23, I ran guardedly, checking for warning signs of leg cramps that I feared might derail me. But with three miles to go and a realization that "the wheels wouldn't come off," I hurled myself toward the finish. I'd read articles urging the use of positive mantras to push through the grueling homestretch, but I relied on something far more powerful. I recited the names of all the people who donated to the American Liver Foundation and sponsored me for the marathon. Without them, none of this would have happened.

As I rattled off their names, I told myself, "I'm not letting them down now."

Patrick, Peggy, Dave, Cari, Jen, Liisa…
Hammered mile 23.

Tim, Jolynn, Gina, Kay, Luz, Clara…
Cornered into Central Park.

Betsy, Jim, Mina, Randy, Pam, Steve…
Tackled the rolling hills.

Lindsey, Sean, Fran, Julie, Marci, Jon…
Charged out to 59th St.

Danielle, Art, Judy, Andrea, Karen, David…
Rounded Columbus Circle.

Kim, Lisa, Beth, Paul, Andre, Robin…
800 meters to go!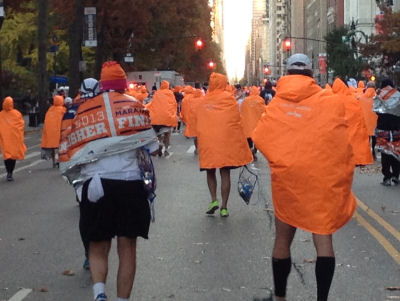 Even after a race volunteer draped a medal around my neck, I wasn't absolutely sure I had accomplished my goal of running sub-5 hours. All the race clocks were synchronized to the start time of the elite professionals; the rest of us began in waves, in some cases, more than an hour later. Hungry and exhausted, I couldn't get my mushy brain to calculate my finish time. But as elated as I was when I learned of my official result, 4:57:01, I was overjoyed by another discovery.

I may have started running to escape my worries, but now I pursue it for a far better reason: To face life's challenges – head on.


END


Use Facebook to Leave a Comment
- We'd love to hear from you.