Staff Shoe Review – The Brooks Ghost 12
By Shane Huckeba, Shoe Expert at Track Shack and Former Collegiate Athlete
Here it is ladies and gentlemen, our most popular shoe got an update and let me tell you, it's a good one!
Today we are talking about the Brooks Ghost 12. The Ghost series from Brooks has been one of the titans in the running industry for a number of years with thousands of people coming back each year for the latest model. This neutral cushioned ride is truly a staple and this iteration is no different. We don't always like it when our favorite shoe gets an update but Brooks nailed this one! They tweaked enough of the design to keep it fresh while not sacrificing the traditional comfort of the shoe. Now keep in mind that most of this review is based on my own personal experience of wearing the Ghost 12 for a while. I was a pretty heavy user of the Ghost 11 so I like to think I have an informed opinion on the changes, but let's keep it objective for this next bit.
What exactly has changed from Ghost 11 to 12?
The first thing I noticed when putting on the Ghost 12 is that it seems to hug my foot a touch more. It never felt cramped, but it is important to note that I have fairly narrow feet, so for those of you with wider feet I suggest paying attention to the width on this iteration. One of the big changes of this version is the upper mesh. The Ghost 11 had a very flexible upper which some liked and others never quite got that "lock down" they look for in a shoe. While still breathable, I can say there isn't as much flex to the mesh on the 12 which is why I think this version seems to hold the foot more securely. Brooks managed to streamline the shoe which resulted in a 0.2oz weight drop, leaving it at 9.3oz in women's and 10.4oz in men's. In my personal experience I did notice a little bit more of an arch contour in the midfoot. Those of you with high arches will probably welcome the contact. It took a couple of hours of wear for it to "disappear", but I no longer notice it. In fact as someone who has a higher arch, I have grown to like it.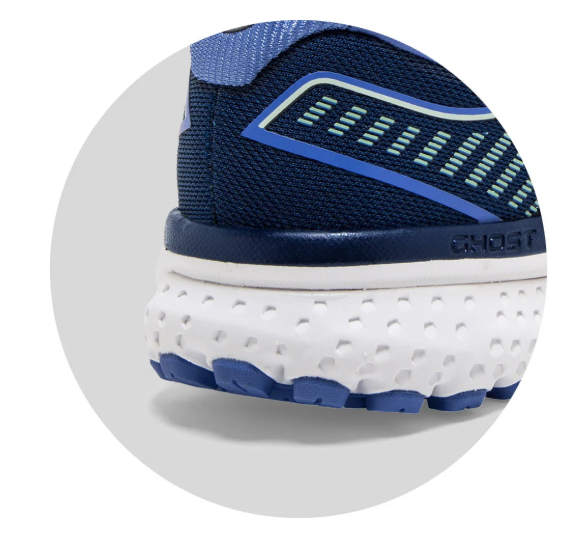 One small potential negative that I want to discuss about this shoe is the traction. Again, this is only my personal experience, but I noticed that on wet surfaces I wasn't getting a very strong push off. The outsole of the shoe does seem a little more robust, but it didn't seem to give me great grip in adverse conditions. On asphalt and concrete you don't have much to worry about, but if you are getting into wet wooden bridges, muddy conditions, or just slick surfaces in general you may want to consider this fact.
Overall the shoe seems to have a little bit of a "smoother" ride to it than the previous version. The heel-toe motion of walking transitions wonderfully and the midfoot and forefoot roll off the toes naturally while running. It has plenty of cushion for those of you looking to protect against the pounding of the urban jungle, but not so much you can't still get that lovely "ground feel" that connects you to the Earth. I highly recommend trying this shoe especially if you are upping your mileage or just want a cushioned, springy ride.
As always stop by the store and we can see if this shoe makes sense for you, if you have liked previous versions you simply have to try this shoe. Run to Track Shack and try it ASAP!
Track Shack is a specialty running/walking store that has been serving the footwear needs of Central Florida's fitness enthusiasts since 1977. Our experienced and knowledgeable staff takes each person through a custom fitting process. Shoes and feet are our business but people are our specialty! Now that you're here, walk through our user-friendly website and welcome to the Track Shack family!
Use Facebook to Leave a Comment
- We'd love to hear from you.