Staff Shoe Review – New Balance 880v9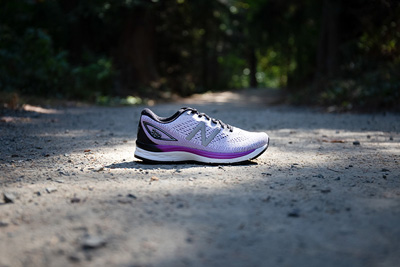 By Abby Slauter, Shoe Expert at Track Shack 
When I started working in run specialty, the New Balance 880 immediately became one of my favorite shoes in our lineup due to its wide appeal and the variety of runners for whom it works. Light and agile enough to do some speed work yet supportive enough to get you through a long run, the 880 also makes an excellent cross-trainer or walking shoe.
Fans of the 880 will appreciate that New Balance knows what works.  The only major change they made to this update of their flagship trainer was to give it the same engineered mesh upper material found in the most recent version of their 860 stability shoe.
After having seen how New Balance revamped the upper fabric in their 860 last fall, I was excited to see that carried over into the 880 as well. The move to a mesh material has three major advantages. First, the fabric itself has a bit more stretch and gently forms to the foot, which offers a better fit and makes it feel less bulky. I personally felt like my foot sat a bit deeper in the shoe, though our New Balance representative tells me the rest of the shoe remains mostly the same as the previous version. The second and arguably most important feature of the mesh upper is that it provides better ventilation—something Floridian runners are sure to appreciate. Finally, the new upper provides a sleek look and style in a market that is trending heavily toward mesh fabric. 
Most wearers will appreciate that the move to a mesh upper also gives the illusion that the shoe is more tapered in the toe box while still offering the generous forefoot space that loyalists of the 880 have come to expect. The nature of the mesh fabric means that the toe space feels marginally more shallow, but this is not a major change that should affect most runners and walkers and may appeal to some.
The blown rubber forefoot sole provides extra cushioning for those longer runs or uneven surfaces, which trail and road runners alike will value.  Air-blown rubber technology allows for a lighter, more cushioned transition and excellent traction since it is more flexible than traditional carbon rubber.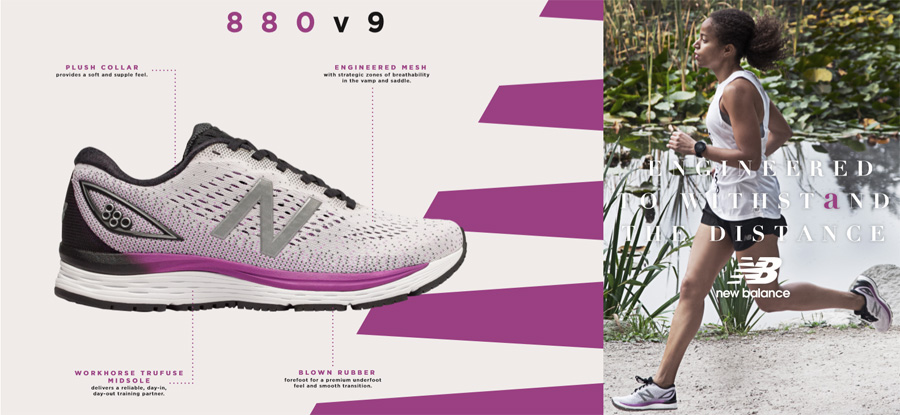 New Balance touts the 880v9 as having a plush heel collar, which I found to be quite true when I tried it on.  It seems to me that the collar is just a hair lower on the new version, which felt like a slightly more secure fit to me over the v8. I compared it with both a new shoe of the previous version as well as the pair of 880v8 I have worn as a rotating work shoe for 6+ months.
The ninth version of this shoe keeps the same TRUFUSE midsole and post-applied medial post that work in tandem to make the 880 the "neutral-plus" workhorse shoe it is. When we talk about categories of support, I actually find that a lot of runners fall into this gap of needing just a little bit of stability but having a mostly neutral gait. The fact that the 880 covers this gap is where it truly appeals to the masses and sets itself apart from other neutral cushion shoes. 
Even people who do not consider themselves to be runners should consider trying this shoe on if it is a good match for your foot. The solid construction of a durable running shoe will offer the support and cushion that walkers and people who work on their feet all day need. Be sure to stop by Track Shack and see if the New Balance 880v9 and you are a match!
Track Shack is a specialty running/walking store that has been serving the footwear needs of Central Florida's fitness enthusiasts since 1977.  Our experienced and knowledgeable staff takes each person through a custom fitting process.  Shoes and feet are our business but people are our specialty!  Now that you're here, walk through our user-friendly website and welcome to the Track Shack family!
Use Facebook to Leave a Comment
- We'd love to hear from you.