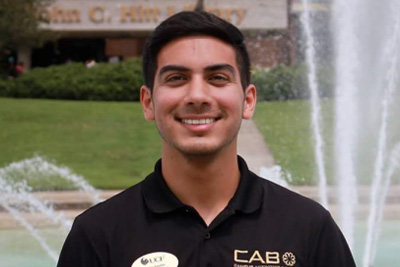 The UCF Student Behind the U Can Finish Event Shirt Design
For the first time, the U Can Finish event shirt was designed by a UCF Graphic Design student. Out of all the designs submitted by the 20 person class Jorge Aguilar's was chosen. The voting took place on social media and his design was a unanimous win! Here's a little insight on the design and Jorge (JA):
TSE: Can you explain why you included those particular icons in the design versus something else on UCF Campus?
JA: I believe that the reflecting pond is a vital part of the UCF experience. It's where students sit down to relax, read a good book, enjoy a symphony, and take some of their last photos at UCF: graduation photos. I've always appreciated the pond for providing our campus with a gorgeous view that very few other campuses can claim to have.
TSE: The back of the shirt has some words of inspiration, which is unique to our shirts. They normally just have sponsor logos. What inspired you to include those?
JA: I wanted to include the quotes involving racing, training, and sweating because they represent obstacles that one must overcome in order to finish a race. They very much relate to running, and they remind people of the amount of effort and work it takes to accomplish a task such as running a 5 miler.
TSE: Tell us where you are from, when you graduate, what your degree is in and what kind of job you'd like to have?
JA: I went to high school in Boynton Beach, FL where I took classes involving design and digital media. I'm currently in my second year of the Graphic Design program at UCF, and I plan to graduate in Spring of 2017. I hope to find a job in the Entertainment Design industry, specializing in poster design and key art.
To view more of Jorge's Work: Behance.net/jorge_aguilar
Use Facebook to Leave a Comment
- We'd love to hear from you.