Thursday, May 9, 2024 
4:00 pm – Lake Eola Opens 
5:30 pm – T-Shirt Design Award/ Largest Team Award
5:45 pm – Runners line up on Central Blvd. (3 Corrals)
6:00 pm – Walkers line up on Eola Drive
6:15 pm  – Runners Start
6:25 pm (Approx.) – Walkers Start
7:15 pm  – Overall Male/Female Award 
Lake Eola
Orlando, FL 32801
About this Event
Businesses and non-profit organizations form teams, in person or virtually, and participate in the SimplyIOA Corporate 5k presented by Key HR for camaraderie, friendly competition and celebrating with co-workers. 
Don't have a team? Join the Track Shack Fitness Club team! 
All Participants Receive:
8-Week Training Plan
Event Bib
Event Shirt
Customized Finisher Certificate
Ride SunRail free to and from the race with your bib number! 
Beneficiaries
Proceeds are donated to the Track Shack Youth Foundation and Second Harvest Food Bank of Central Florida. Click here to learn more about these beneficiaries and their impact on the Central Florida community.
Are you a new Team Captain?
Team captains are the heart and soul of the SimplyIOA Corporate 5k presented by Key HR. Team captains are responsible to create the team, recruit members and encourage company participation. 


News and Updates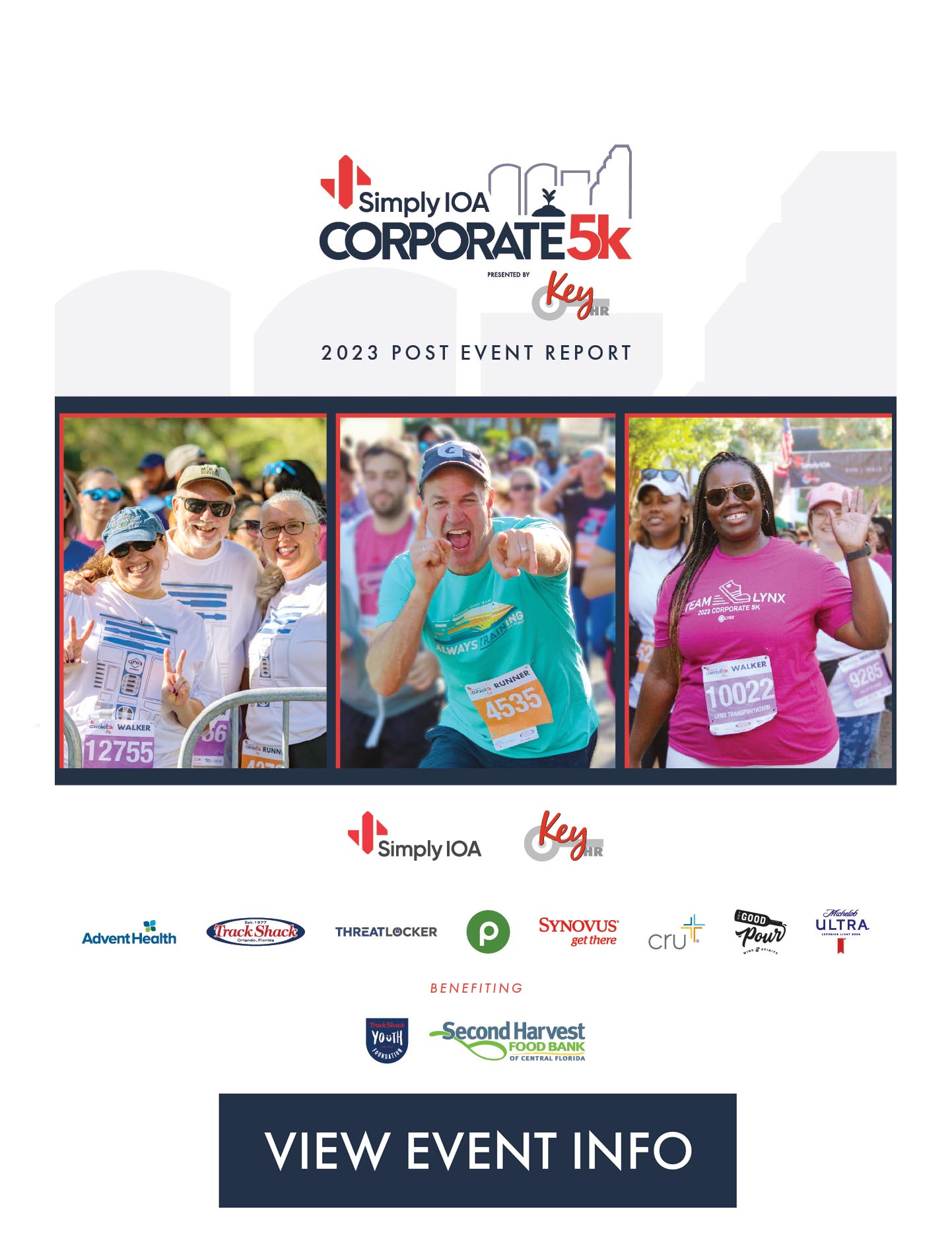 Event Recap
The force was strong, Thursday, May 4th at Lake Eola where 10,436 athletes teamed up with co-workers to run and walk together at the 29th SimplyIOA Corporate 5k presented Key HR.

The energy level was positive and riveting on a beautiful night in downtown Orlando! Around Lake Eola that night 415 companies and their employees stepped away from the business routine to run, walk and contribute much-needed food and funds to Second Harvest Food Bank and the Track Shack Youth Foundation. Read the blog >>