Orlando Galloway- Run Injury Free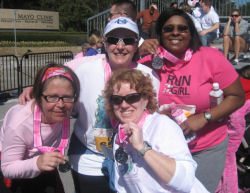 The Galloway training method is a unique run/walk/run® style of training that minimizes injuries and enables participants to achieve their goal of completing a marathon or half marathon. The training program welcomes all levels, from beginners to Boston Qualifiers. Pace groups are set up to ensure a comfortable and safe training pace on the long mileage Saturday runs. This low mileage run/walk/run® program will prepare participants for an incredible achievement.
Galloway Training Kick-Off/ Meet n' Greet with Jeff Galloway
Come meet former Olympian and runDisney coach Jeff Galloway! Jeff will explain his unique run/walk/run® training method and how you can succeed with this method.
Saturday, June 3rd at 6:30am
Glenridge Middle School Track
"Magic Mile" time trial: The magic mile (4 laps around track) which determines pace group placement and run/walk interval is done early in the new session. The magic mile can be run, run/walked, or walked.
*For those training for a marathon a Magic Mile of 13 minutes or faster must be achieved.
Upcoming Session

Saturday, June 3, 2023 - Sunday, February 10, 2024


3 Days/ Week

Tuesday - 4:45 am warm up, 5:00 am start – Tempo and hill workouts

Thursday - 4:45 am warm up, 5:00 am start – Speed workouts
on the track designed for distance runners

Saturdays- 5:45 am warm up, 6:00 am start (start times will get
earlier as mileage increases) – long mileage runs with
assigned pace group

Locations

Glenridge Middle School

Prerequisite 

Starting mileage is 3 miles.
Depending on your fall marathon, mileage will start at 12

Fee

New members: $190
Alumni*: $160
Alumni Club**: $129 


*An alumni is one who has participated in this specific
training program within the last two years.

**Alumni Club is for those who have been in the program
for 3 years or longer.  

Registration


Coach/Contact

Kerrie Gregory, Program Director, Orlando Galloway Training 
Kerrie@trackshack.com
Program Benefits
Customized training schedule 

Jeff Galloway's Book

Leslie Jordan technical shirt

15% Discount Card for merchandise at Track Shack 

Direct e-mail access to Jeff Galloway 

Weekly program emails

Registration discounts on OUC Orlando Half, Space Coast, 26.2 with Donna, and others 

50% off cost of Galloway Running School
Targeted Races
New runners may target Disney Wine and Dine half, Jeff Galloway 13.1, Space Coast full and half, OUC half, Disney marathon weekend races, and 26.2 with Donna (Breast Cancer) full and half marathons. Returning runners may target earlier races, such as Chicago and NYC marathons.
Rain Policy



Training programs run in the rain! Coaches are present for every workout and workouts are only cancelled if lightning is present in the area at that time.