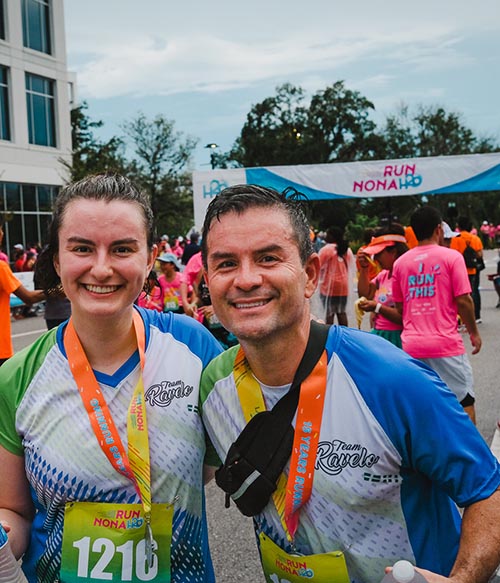 B-Tag Scoring
The B-Tag by ChronoTrack is the timing device used to score 5k participants. The B-Tag is attached to the back of your runner bib. 
In order to receive an accurate time, please confirm your bib is:
Clearly visible on the FRONT of the torso.
Unaltered or modified. Do not fold or wrinkle or you risk breaking the timing chip.
Pinned in all four corners so the timing chip stays flat.
Not covered with jackets, water bottles, etc so as not to block the reading of the timing chip.
Race Results
Same day results available at https://www.trackshack.com/page/81
Awards
Team Competition Award
One company or civic group with the most participants (minimum 15) a $250 donation to their charity of choice, which must be a 501 (c) (3) organization.
5k Awards
Top three male and female, top male and female master and the top three finishers in each age division will receive awards. 
Special 5k Award for Lake Nona Residents
All residents of Lake Nona are eligible for Lake Nona Resident Awards which are presented to the fastest male and female runners who reside in any of the following neighborhoods!
Lake Nona Golf & Country Club
NorthLake Park
Enclave at NorthLake Park
Water's Edge at NorthLake Park
Van Metre (NorthLake Park Apartments)
VillageWalk
Enclave at VillageWalk
Laureate Park
One must check a corresponding box during online registration to be in the running. This award is based on chip time.
Age Divisions
| | | | |
| --- | --- | --- | --- |
| 8-10 | 25-29 | 45-49 | 65-69 |
| 11-13 | 30-34 | 50-54 | 70-74 |
| 14-18 | 35-39 | 55-59 | 75-79 |
| 19-24 | 40-44 | 60-64 | 80 and over |
Note: ONLY Runners and walkers ages seven and above who wear the designated B-Tag are included in the race results. Eight and above are eligible for awards. View TSE policy >>