Date & Time
Saturday, January 28, 2017
7:30 am: 5k Run/Walk (3.1 miles).
8:45 am: Kids' Run
9:00 am: Awards Presentation
Location: TBD
About this Event
The Florida Hospital Lady Track Shack is a one-of-a-kind women's only event. For over 30 years, community leaders, mothers and daughters, sisters and friends have been taking part in this event to celebrate women's health and fitness.

Share the Video! #FundAMammo
With your help let's raise money for local women who don't have the resources to get annual mammograms or other diagnostic screenings. Help us spread the word! SHARE on Facebook!
Let's raise $25,000 for local women in need. That will fund over 700 mammograms for local women in need.  


---
Restrictions- Safety is our first priority!

Women's only race. Bicycles, roller skates, in-line skates, and dogs will be prohibited from the race course. The use of headphones is discouraged.

Walker Friendly Events
Keeping Central Florida Fit is our mission. Walkers are encouraged to participate in all Track Shack races. Municipalities require that road ways are clear of participants and opened as soon as the race is complete. That is why a maximum pace of 16 minutes per mile is set. If the pace isn't maintained, race officials will ask you to move to the sidewalk to re-open the roadways.
Stroller Restrictions
• Stroller/jogger operators start behind designated stroller signage and must check in on race day.
• Stroller/jogger operators may walk/jog no faster than 15 minute per mile, a safe operating speed. If your speed goes faster than 15 minutes per mile pace, you may be disqualified.
• Stroller/jogger operators must yield the right of way to runners. Stroller/Joggers can tip easily and cannot turn quickly. Please do not weave through packs of runners. 
Registration is scheduled to open in September!
Online registration available until Thursday, Jan. 26. Register at Track Shack on Friday until 7:00 pm or at the race on Saturday.

If you register online during packet pick up days your packet will be available the next day at 10:00 am.

Entry fees are non-refundable and non-transferable.  

This is a women's only race. Men can participate in the Virtual Race.

Register by November 15th to have your name on the race number!
Entry Fees

Through Jan. 14


$35

Jan. 15 - Jan. 26


$38

Race day at race site 

$45

A supporter of under-served and uninsured
women in this community, for an additional donation of $10!

$40- Must register by 1/21/2017.

17 & under and 65 & over

Through Jan. 27: $10 OFF


Race day at race site: $45 (If spots are available)
Processing fee is included in the registration fee. 
Florida Hospital employees receive a $2 discount. Employee ID must accompany paper registration. Coupon code is required for online registration. NOTE: Code distributed by Florida Hospital. Contact: FH.Sports.Med.Info@flhosp.org or go to Floridahospital.perkspot.com.
---
Packet Pick-Up
Race information, race number, t-shirt available at Track Shack and at the race site on race morning. Track Shack is located at 1104 N. Mills Ave. Orlando, FL 32803. Email: info@trackshack.com


| | |
| --- | --- |
| Wednesday, Jan. 25 - Friday, Jan. 27 | 10:00 am - 7:00 pm |
| Race day at race site | Starting at 6:00 am |
If you register online during packet pick up days your packet will be available the next day at 10:00 am.

Tech Shirts and Medals
Girls just want to have fun! Registered participants receive a Raw Threads super-soft, short sleeve, tech tee and a medal!
Pre-registration is strongly recommended. Sizes not guaranteed day of race. Event capacity is 3,200.
Raw Threads Shirt - Participants receive a long sleeve Raw Threads shirt! Made with performance jersey, it's lightweight, breathable, temperature regulating, moisture wicking, 4-way stretch, anti-odor, easy care and has UPF 50+ sun protection. All performance attributes are inherent to the fabric and do not wash out! It may even help you run faster but that's not yet been proven.
Finisher's Medal - 5k finishers receive the pretty and sparkly medal!

---
Pink Supporter
Become a Pink Supporter for an additional donation of $10. With this upgraded registration you'll receive extra recognition through a keepsake race number. Proceeds go to under-served and uninsured women in our community. Register by November 17th to have your name on the race number.
---


Cancer Survivors
All cancer survivors receive a special race number. Please check survivor box on the entry form. Survivors receive a special gift!
Register by November 17th to have your name on the race number.


---
Kids' Run
Free to all children. Distances will range from 100 to 400 yards and children will be placed in age appropriate groups. Everyone must register on race day to participate. The first 100 registered participants will receive a T-shirt. The Kids Runs will start and finish at the finish line. All finishers will receive a finisher's ribbon.

---
Virtual Race
Are you a supporting husband/father/son? Or if you can't make it to the race but are still interested in supporting the cause, and receiving awesome SWAG, you can join in the fun! Run or walk a 5k wherever you are and support the Florida Hospital Breast Cancer Care Fund. Must register by January 21.


Women Virtual Race participants receive a downloadable race number, the event shirt, Motivate Wrap and finisher's medal. Race capacity is set at 3200.

Men Virtual Race participants receive a downloadable race number, pair of Track Shack socks and bottle opener.

Items will be mailed on February 2.
---

---
Event Photography
Be sure to wear your bib number on the front using all four pins so that it's visible to photographers! Visit www.bbactionphoto.com to view race day photos. Participants will be notified by email when photos are ready for viewing!



Beneficiary
Florida Hospital Breast Cancer Care Fund was created to help save the lives of women who cannot afford clinical breast cancer exams and annual mammograms-the most effective tool in the fight against breast cancer.


"This special fund is allowing our clinical team to do some incredible things for the women of central Florida.  Thank you for helping these women receive the best medical care and early detection regardless of insurance or ability to pay."
--Courtney Staup, Florida Hospital Foundation


Contact Florida Hospital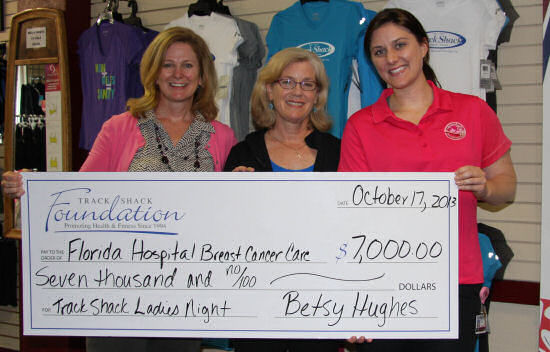 If you, a friend, or a loved one could benefit from the Florida Hospital Breast Cancer Care Fund, we encourage you to contact our fund coordinator today at (407) 303-1488 or via e-mail to: fundcoordinator@FLHosp.org.

Photo from Oct, 2013. 7th Annual Ladies Night. $7,000 raised for the Fund.




B-Tag Scoring
The B-Tag by ChronoTrack is the timing device used to score participants. The B-Tag is attached to the back of your runner bib.

In order to receive an accurate time, please confirm your bib is:
Race Results
Same day results available at www.TrackShack.com.

---
Awards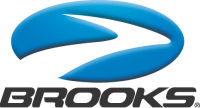 Awards and Brooks gift goes to:
Top five overall female runners
Top master, top grand master, top senior grand master
Top 3 race walkers and top 3 age group winners

Note: Any master athlete that places in the overall division receives the overall award.
Age Divisions for Awards

| | | | |
| --- | --- | --- | --- |
| 8-10 | 25-29 | 45-49 | 65-69 |
| 11-13 | 30-34 | 50-54 | 70-74 |
| 14-18 | 35-39 | 55-59 | 75-79 |
| 19-24 | 40-44 | 60-64 | 80 and over |
Note: ONLY Runners and walkers ages seven and above who wear the designated B-Tag are included in the race results. Eight and above qualify for awards. View TSE policy >> 

---
Race Walkers
The top three overall female race walkers will receive awards. This is a judged race walking competition. Those who wish to compete in the race walking division need to register at the Central Florida Race Walkers' tent on race day. Same registration procedures and entry fees apply.