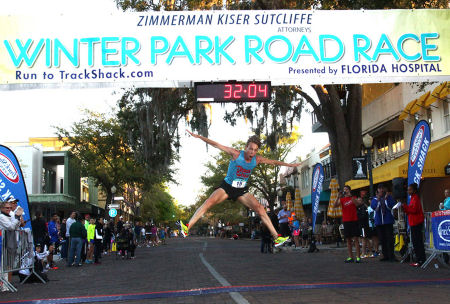 Date, Time & Location 
Saturday, March 14, 2015
7:00 am: 2 Mile
7:30 am: 10k (6.2 mi.)
8:15 am: 2 Mile Awards
9:00 am: 10k Awards
9:15 am: Healthy 100 Kids' Run
10:00 am: Track Shack Running Series Awards Ceremony

Park Avenue in Winter Park, FL
251 Park Avenue South
Winter Park, FL 32789
About this Race
This is the Grand Finale of the Track Shack Running Series.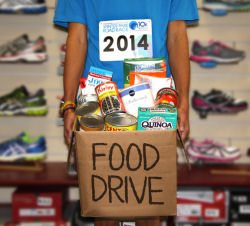 Our title sponsor, Zimmerman Kiser Sutcliffe is celebrating 30 years of service in Central Florida. 
To celebrate they are working with local organizations to collect 30,000 cans of food to feed the hungry in our community.   More info >>
---
Restrictions- Safety is our first priority!

Bicycles, roller skates, in-line skates, and dogs will be prohibited from the race course. The use of headphones is discouraged.

Stroller Restrictions
• Stroller/jogger operators start behind designated stroller signage in the 2 mile ONLY.
• Stroller/jogger operators may walk/jog no faster than 15 minute per mile, a safe operating speed. If your speed goes faster than 15 minutes per mile pace, you may be disqualified.
• Stroller/jogger operators must yield the right of way to runners. Stroller/Joggers can tip easily and cannot turn quickly. Please do not weave through packs of runners. 
Online registration available until event reaches capacity or Thurs. March 12. Bring form to Track Shack after that date.

If you register online Wed. or Thurs. of race week, your packet will be available starting at 10:00 am the next day.

Entry fees are non-refundable and non-transferable.

Not sure if you already registered online? Click here to confirm your registration!

Entry Fees


| | | | |
| --- | --- | --- | --- |
|   | 10k Mile (Capacity: 3,500) | 2 Mile (Capacity: 1,500) | Distance Dare (Capacity: 800) |
| Through March 7 | $35 | $25 | $55 |
| March 8-13 | $40 | $29 | $63 |
| Race day at the race site- | $45 | $35 | $75  |
| | |
| --- | --- |
| VIP on Park                           |         Additional $10! Proceeds benefit Winter Park Day Nursery |
17 & under / 65 & over                


Through March 13: $10 OFF (Register early for best rate!)


Race day at race site: Same as race day fee above
Florida Hospital employees receive a $2 discount. Employee ID must accompany paper registration. Coupon code is required for online registration. NOTE: Code distributed by Florida Hospital. Contact: FH.Sports.Med.Info@flhosp.org

---
Packet Pick-Up
Race information, race number, B-Tag, and T-shirt available for pick up:
| | |
| --- | --- |
| Wednesday, March 11 - Friday, March 13 at Track Shack | 10:00 am - 7:00 pm |
| Race day at the race site | 5:30 am - 7:30 am |
If you register online Wed. or Thurs. of race week, your packet will be available starting at 10:00 am the next day.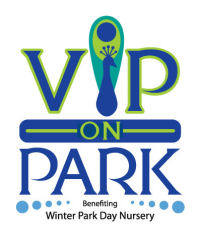 VIP on Park 
Relax you're a VIP! Register for the race day VIP area giving you the ultimate post-race reward. VIP access is an additional $10 and proceeds go to the Winter Park Day Nursery. VIP access includes chair/table massage  plus coffee and pastries. Limited to the first 300.

Complimentary VIP access to: Running Series Fanatics and those who have completed all 6 Running Series Events!
---
Race SWAG!

Gender Specific Tech tee

Souvenir stemless wineglass

Finisher's Medal to 10k participants!

Sports Towel from Jewett Orthopaedic

10kers and 2milers over 21 receive a New Belgium Snapshot or Fat Tire


---
Distance Dare   
Want more distance? Spice up your morning by doing both races for a total of 8.2 miles!
Capacity is set at 800.

Receive a Distance Dare finishers' medal

Gain more mileage at one event

Receive cumulative race results for both races

Please note the start time of both races to make sure you are able to complete the 2 mile race before the start of the 10k.
---
Shirts
All participants receive a beautiful, commemorative gender specific tech t-shirt.
Sizes are not guaranteed on race day registration.

---
Celebrating Your Accomplishment
All 10k finishers receive a finisher's certificate. Don't forget to provide your email address!
---
Healthy 100 Kids' Run
Kids' runs are free for all children. Distances range from 100 yards to 1 mile and children will be placed in age appropriate groups. Registration is on race day at race site. The first 125 registered participants will receive a T-shirt. The Kids' Runs start and finish at the finish line.
---

Event Photography
Be sure to wear your bib number on the front using all four pins so that it's visible to photographers! Visit www.bbactionphoto.com to view race day photos. Participants will be notified by email when photos are ready for viewing!
---

Beneficiary
Meridian Club of Winter Park Scholarship Fund
Proceeds from the Zimmerman Kiser Sutcliffe Winter Park Road Race 10k & 2 Mile James C. Barnett, M.D. Memorial Run presented by Florida Hospital benefit the Meridian Club of Winter Park Scholarship Fund. The Meridian Club of Winter Park has served the City of Winter Park and surrounding region for 37 years. Among its notable activities is a scholarship program that annually awards college scholarships to graduating high school seniors at four area schools. Since 1977, the Meridian Club has given more than $300,000 to more than 150 local high school students as they continue their education.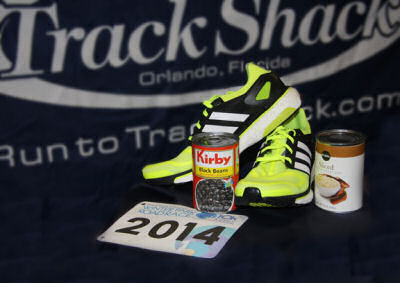 ZKS Food Drive for Second Harvest Food Bank
Please join us in an effort to help Zimmerman Kiser Sutcliff with the amazing challenge to collect 30,000 cans of food in one year!  You can help by bringing a non-perishable or can food item to Track Shack during the week of March 10 – 14 or to the Winter Park Road Race on March 15. All collected food will be given to Second Harvest Food Bank. 
Critical Item Needs

Fruits: Canned fruit (in its own juice, no sugar added varieties), dried fruit, 100% fruit juice

Vegetables: Canned vegetables (reduced salt/no salt varieties), 100% vegetable juice, spaghetti sauce

Grains: Rice, pasta, crackers (whole-grain varieties), ready-to-eat cereal (low sugar/high-fiber), oatmeal

Protein Foods: Canned meat/poultry, canned tuna/salmon (packed in water), canned/dry beans & peas (low/no salt varieties), peanut butter

Dairy/Dairy Alternatives: Nonfat dry milk, evaporated milk, soymilk

Meals: Beef stew, canned soup (reduced sodium varieties), chili, other canned meals

Other: Nutritional drinks (ex: Ensure, Boost)

Baby Food: Must be in complete, undamaged original packaging. No individual serving glass or plastic containers unless in an unopened case.



In Memory of Dr. James Barnett M.D. 
Dr. James Barnett M.D. was a Winter Park resident, skilled surgeon and avid runner. This race was one of his favorite races. Dr. Barnett was a physician at Jewett Orthopedic Clinic for 20 years and team physician for the Orlando Magic. He was an avid runner who emphasized the blending of fitness and exercise in improving the quality of life for the patients he touched. Dr. Barnett would never miss the Winter Park Road Race and we salute the participants of the race who continue to strive for the passion and balance in their own life's journey.
Course

Both the 10k and 2 mile start on Park Ave. near the stage in the north end of the park and meander through the historic brick streets of Winter Park. 
Course map coming soon!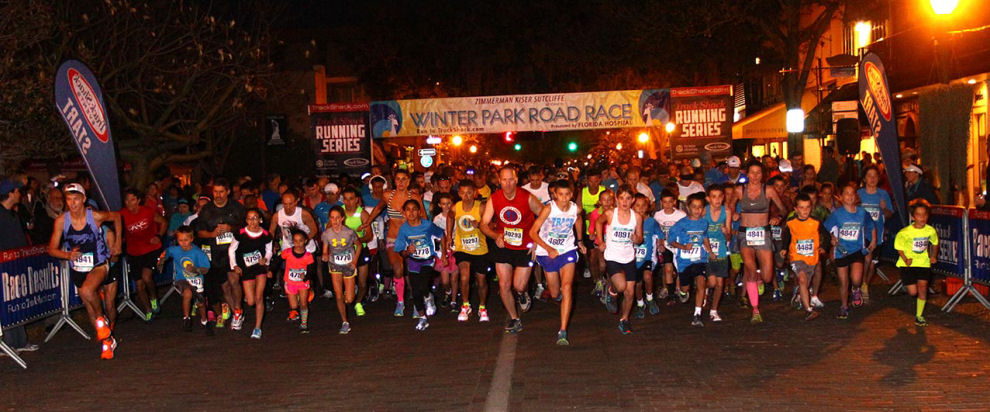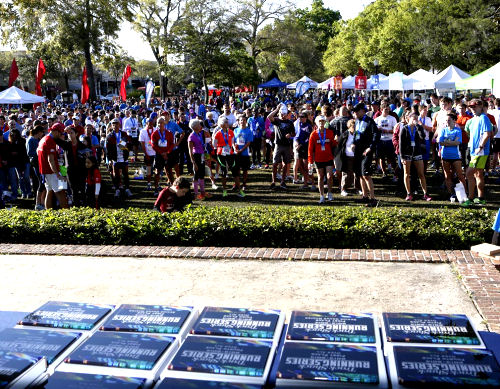 B-Tag Scoring
The B-Tag by ChronoTrack is the timing device used to score participants. The B-Tag is attached to the back of your runner bib.

In order to receive an accurate time, please confirm your bib is:
Awards
This is the Grand Finale of the Track Shack Running Series and double points will be awarded! Any master athlete that places in the overall division receives the overall award.

10k Awards

Top 3 Male and Female
Top Male and Female Master
Top Male and Female Grand Master
Top Male and Female Senior Grand Master
Top 3 finishers in each age division beginning at age group 14-18
Top 3 Overall Male and Female Race Walkers

Note: Runners and walkers ages fourteen and above who wear the designated B-Tag are included in the 10k race results.
10k Age Divisions

| | | | |
| --- | --- | --- | --- |
| 14-18 | 35-39 | 55-59 | 75-79 |
| 19-24 | 40-44 | 60-64 | 80 and over |
| 25-29 | 45-49 | 65-69 | |
| 30-34 | 50-54 | 70-74 | |


2 Mile Awards
Top 10 Overall Male and Females
Top 3 Male and Female finishers in 8-10 and 11-13 age groups will receive awards and will be scored for the Running Series.
All times will be recorded.

Note: Runners and walkers ages eight and above who wear the designated B-Tag are included in the 2 mile race results.
---
Race Walkers
The top three overall male and female race walkers and overall male and female youth division 14 and under will receive awards. This is a judged race walking competition. Those who wish to compete in the race walking division need to register at the Central Florida Race Walkers' tent on race day. Same registration procedures and entry fees apply.
---

Race Results
Same day results available at www.TrackShack.com.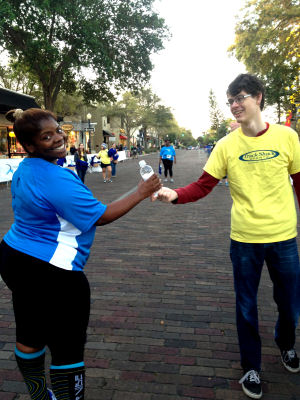 Directions 
Take I-4 to Fairbanks exit (#87). Head east on Fairbanks to Park Ave. Turn left onto New York Ave for parking; race starts on Park Ave.

Parking
Limited race day side street parking available near Park Avenue. Free all day parking available in 7 municipal parking lots within one block of Park Avenue. Two parking garages available:

1) New York Ave. at W. Canton Ave (free parking)
2) South Park Avenue at Lyman (paid parking)

| | |
| --- | --- |
| | Parking Map |

ChronoTrack Live
Available two weeks prior to the event.

Live Results/Website Tracking

This allows you to track an athlete online as they compete. Click here for live results.
Automatic Updates
This enables real-time mobile results. Sign up to receive text message, Facebook or Twitter runner updates.
The following splits will be provided in the 10k: 5k and finish.
Note: If you register during race week, you will be able to sign up for tracking on Friday after 10:00 am.