Team Track Shack Member Spotlight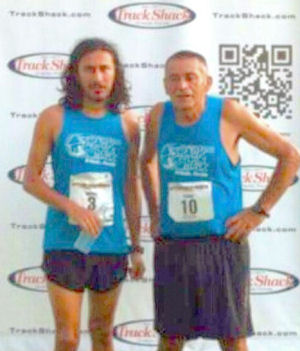 Father-son team Pedro and Andres Fernandez are making racing the Track Shack Running Series a family affair. Andres, currently a member of the retail store team and a competitive athlete himself, has been accompanied by his father, Pedro, during that the last two running series events and are both running strong.
Growing up Pedro honed his skills on the soccer pitch and that began a lifelong love with the sport of soccer, and athletics in general. This passion for sports accompanied the love and pride Pedro felt in his growing family, and by the time his third child, Andres, was born he had integrated family time into sports time. It was this early influence of being on the field, running after his dad and kicking the ball around in the green grass that brought Andres to his eventual pursuit of competitive track and cross-country in high school.

Andres ran at Colonial high school, a local school that's produced All-American teams on the indoor track, and state champion harrier squads. Andres took to the roads, dirt, and tartan like a duck to water – all under the watchful eyes of a proud Pedro.

Having graduated from Colonial, Andres is currently a senior engineering student in his final year at the University of Central Florida. Last June 16th when Father's Day rolled around Andres was looking for a way to spend more time with his dad and thank him for all the support he has shown him growing up – and that's when the idea of the two of them running the Track Shack Running Series as part of Team Track Shack came to mind.

Pedro and Andres have since gotten in training together and run beautifully at the Series' first two events, Celebration of Running 5k and Autumn Rock N' Run. The 63 year old Pedro has set PBs in both events having run 23:20 for 4th in the 60-65 age group at Celebration of Running, and cracked the 23 minute barrier at Autumn Rock N' Run to place 3rd in his age group. Andres has fared equally well ripping off 8th and 9th place finishes at the two events.

Look for Pedro and his son on the roads at the UCF 5 & 2 Miler in October, they'll be lighting things up on the course, and sparking memories off of it.

Pedro and Andres have made racing time family time – how have you shared one of your passions with your family?



Use Facebook to Leave a Comment
- We'd love to hear from you.