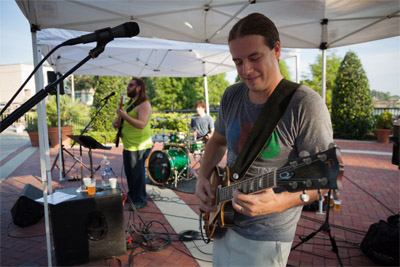 What's Your Favorite Running Song?
At online registration we asked OUC Orlando Half Marathon & 5k registrants to name their favorite song to run to. The favorite was "Eye of the Tiger!" While you may or may not hear that exact song we promise you'll be energized by the lineup of musical acts along the 13.1 mile route!
Based on the input maybe we'll make a current play list of favorite running songs and share it.
Here's what runners and walkers can expect to see and hear along the route! Rock on!
Mile 2.8 Elevators – pop-punk rock
Mile 3.3 Tim Neal, Race DJ
Mile 4.5 Nuvo – Latin pop-dance band
Mile 5.3 Blaine the Mono – alternative rock, female fronted foursome
Mile 6.8 Power Entertainment DJ
Mile 8 Elvis
Mile 9.4 Central Community Arts Performer: Jazz w/ Joshua Glenn Wilson & Friends
Mile 11.1 Sweet Cambodia – kicking Indie Rock trio
Mile 12 DJ Paulee
Water stations are always a welcome sight. Six of the nine water stops will be themed-out so get ready to drink it in!
Water station 1 - Japanese (ORC)
Water station 4 - Life Guard (EDGEWATER CREW)
Water station 5/6 - Boy Scouts
Water station 8 - WPHS School Pride (WPHS ORCHESTRA)
Water station 9 - Out of this World (Seminole County Virtal School)
If you're stopping to sing, dance or take pictures and video share the action by using #orlandohalf. Most have all, have fun!
Use Facebook to Leave a Comment
- We'd love to hear from you.