OUC Orlando Half Marathon and Track Shack Lake Eola 5k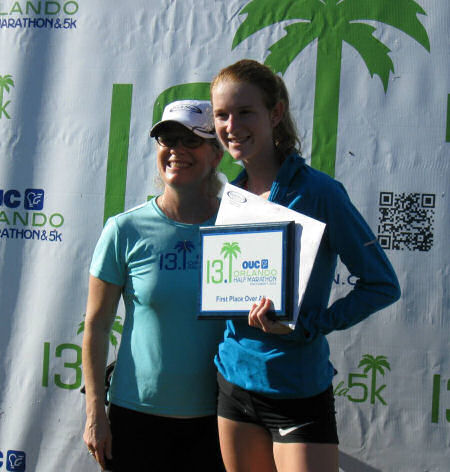 Across the country our road racing brethren woke early, had their pre-race meals, guzzled some hot coffee, and geared up to head out for their races just as we did here in Orlando for the 37th OUC Orlando Half Marathon. Our spiritual brothers and sisters, however, were greeted not by temperatures in the mid-60's and blue skies, but instead by cloudy skies, snowy sidewalks, and the icy winds from Jack Frost more than just nipping at their noses!
Here in Orlando our half marathon got underway on time at 7am and the 5k competitors launched into action shortly after. Though temperatures started comfortably, the action on the course heated up just as quickly as the mercury rose once the sun peaked over the downtown skyline. The men's race saw a group of competitors launch themselves out early chasing the newly upgraded prize purse and a fast time as they scorched through 5k in just over 15:30 and 4 miles in 20:25, while the women's race saw early separation as Taylor Stephens of Savanah, GA rocketed to an early lead.

By the time the band Underhill kicked up to greet the leaders as they wound into the final miles of the course the men's pack had been whittled down to just two from the larger group that had wound by high school bands, Japanese drummers, and DJ's on course. Shortly after men's champion, Patrick Reagan of Savannah, GA, put in a decisive surge to drop his companion. The women's race action progressed much like the film Jaws, with Stephens slowing as her early pace and the heat caught up to her and eventual winner Bryce Seymour, of Oviedo, stalking and slowly closing in the final miles of the race. Seymour would put in the killing attack and pass just at 12 miles and go on to win her first half marathon. Runners from Savannah College of Art & Design and Georgia Regents University swept four of the top six overall positions. Heather Schulz of Orlando finished 3rd overall in a time of 1:25:23.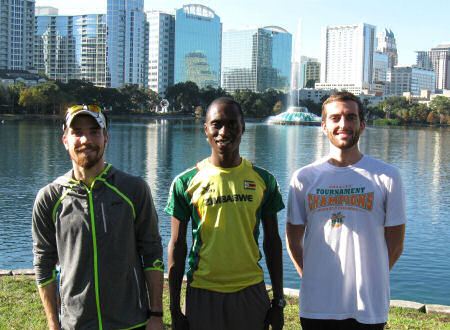 With the seal now broken racers from all around the nation and from five different countries began streaking across the finish line. Despite the warming temperatures many managed to capitalize on the flat, fast course and the cooling lake breezes and launched themselves to new PR's! Many of these happy racers had taken the chance to latch onto one of the many pace groups provided by Track Shack for the first time this year – the 2:45 group even ran so well that they were rolling up the 2:30 group (who was beautifully even and on pace)!

As athletes continued to stream across the line they made their way back to one of three sections of the post-race party. Those who took the opportunity to earn their Brooks Royal Flush stickers visited the climate controlled, running water restrooms of pre-race envy to freshen up, while others headed straight to the tent city to grab some Mich Ultra, "Get Iced" by Florida Hospital, mingle around the tents for sponsor swag, grab some recovery fuel from Florida Milk, and visit with friends while listening to some unbelievable cover songs by Simulcast. Members of Track Shack's MarathonFest mingled through all of these areas while going to the MarathonFest "PartyFest" area to grab food, get massages from Florida Hospital Sports and Rehabilitation staff, and simply sit and relax in the shade. The much anticipated conclusion to our JetBlue Wanna Go? Promotion wound down as two lucky runners won a pair of tickets each on JetBlue! Where would you want to go on JetBlue?

If you weren't one of the 5,600 racers who made it out on Saturday, start planning your trip for next year! We'll be adding even more entertainment, more prizes, bigger prize purse, and more fun to the morning as the OUC Orlando Half Marathon grows into the South East's fastest race in one of America's most famous "Runcation" vacation cities!

Use Facebook to Leave a Comment
- We'd love to hear from you.