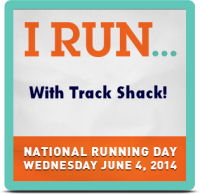 About this Event
There are so many reasons why we run! Join us on National Running Day as runners all over the country unite and take strides toward leading healthier, fitter lives.

Our unofficial run will begin on Oregon St. and then spill into the Orlando Urban Trail, as well as parts of Track Shack's Celebration of Running course. It will be roughly four miles and we will have pacers to run with people of all ability levels to ensure that everyone stays on course.

Water and Gatorade will be available for everyone pre and post run.

Stay tuned to Facebook and the website in case of inclement weather.

Date & Time
Wednesday, June 4, 2014
6:00 pm

Location, Parking & Course

Track Shack Parking lot (on other side of Oregon from the store)
Meet in front of garage
1050 N. Mills Ave.
Orlando, FL