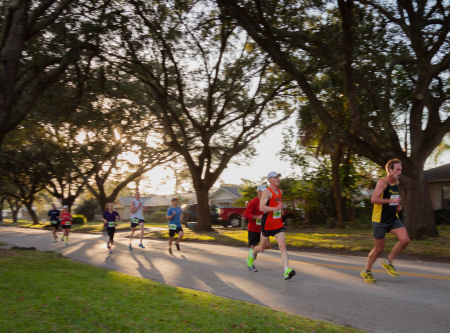 Date, Time & Location
Saturday, February 14, 2015
6:50 am: Olympic Challenge (at Cady Way Pool)
7:30 am: 5k
8:30 am: 5k to $500 Check Presentation
8:45 am: Healthy 100 Kids' Run
9:00 am: Awards Presentation

Showalter Field
2525 Cady Way
Winter Park, FL 32792

About this Event
If you are looking for a 5k PR, this is the race you've been waiting for. Hometown favorite, with a flat, fast course which meanders through a neighborhood adjacent to Winter Park Memorial Hospital. This event benefits the Track Shack Foundation.
Take The Olympic Challenge
YOU can compete alongside Olympic swimmer Rowdy Gaines and
Olympian distance runner Keith Brantly to help raise funds for Winter Park's Cady Way Pool!
---
Restrictions- Safety is our first priority!

Bicycles, roller skates, in-line skates, and dogs will be prohibited from the race course. The use of headphones is discouraged.

Stroller Restrictions
• Stroller/jogger operators start behind designated stroller signage.
• Stroller/jogger operators may walk/jog no faster than 15 minute per mile, a safe operating speed. If your speed goes faster than 15 minutes per mile pace, you may be disqualified.
• Stroller/jogger operators must yield the right of way to runners. Stroller/Joggers can tip easily and cannot turn quickly. Please do not weave through packs of runners.