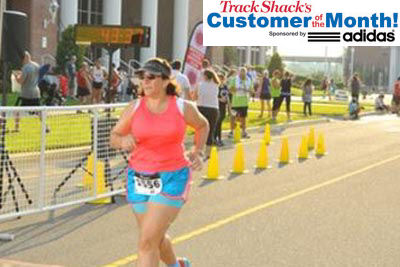 Customer of the Month- December
Tell us about your experiences! That's all it takes to be the Adidas Customer of the Month.
Each month we ask you a different question and if your answer is chosen you'll be highlighted in the monthly email and win a pair of shoes from Adidas!
December Topic:
What is your favorite spectator sign to see during a race? Share a photo or tell us about it. Deadline: November 24th
November Topic and Winner:
There are great ways to cross-train for your running, and you have a variety of ways that you do. Whether boot camp, yoga, Zumba or boxing, you have found that these exercises help you stay strong, flexible, focused and even helped with overall body goals.
For Michelle Tribble, she loves to swim when she's not running a race, because it helps her practice breathing and engaging her entire body in the exercise. She uses it to improve leg strength, recover from IT band aches and says that nothing is better than a cool dip after a long run.
Use Facebook to Leave a Comment
- We'd love to hear from you.