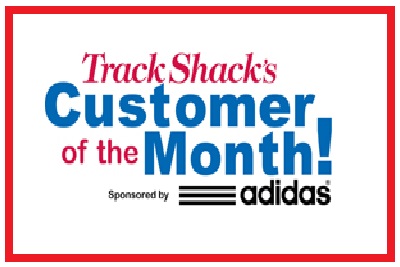 Customer of the Month- August
Tell us about your experiences! That's all it takes to be the Adidas Customer of the Month. 
Each month we ask you a different question and if your answer is chosen you'll be highlighted in the monthly email and win a pair of shoes from Adidas!
August Topic:
Do you have any quirky running habits to share? Post on the Track Shack Facebook page or on the blog. Deadline: July 18th.
July Topic and Winner:
When asked if you enjoying running alone or part of a group, most of you stated that you enjoy both depending on the type of run or your schedule.  Short runs that give you alone time and focus on speed and long runs give you group energy, motivation and distraction.  Some of you would love to run more with others, but your schedules prevent you from hitting the trail with friends as much as you would like.



For our Customer of the Month, Cynthia Sinclair, she loves running on her own to get in sync with her own body and find the perfect pace, but loves the 5k's where she can push herself against others.   
Whether you run with a group or you run on your own…Just Run!
Use Facebook to Leave a Comment
- We'd love to hear from you.