2013 IOA Corporate 5k Recap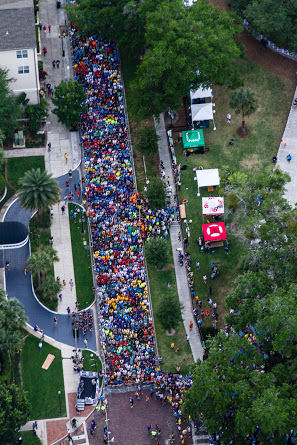 Pride and confidence was the theme at last night's IOA Corporate 5k as 16,400 runners and walkers took over downtown Orlando to celebrate healthy living with co-workers, friends and family.
Central Florida's premiere night-time corporate run is among the largest in Florida and among the first races since the tragic incident that occurred during Monday's Boston marathon.
Orlando Mayor Buddy Dyer's participation was a visible sign of his confidence that downtown Orlando is a safe place to be and that we should celebrate our quality of life with the people we live and work with.
Evan Dehart, of WCCI ran a strong race to win as the Overall Men's Champion with a time of: 15:46
Kristen Tenaglia with New Balance ran 17:43 to claim victory as the Overall Female Champion.
Overall Male CEO: Reagan Rick, Fifth Third Bank: 20:03
Overall Female CEO: Melanie Fernandez, Cross, Fernandez & Riley, LLP: 25:20
GO TO FINAL RESULTS >>
Spirits were high as participants started the race singing in chorus to "Sweet Caroline" as part of an emotional and fitting tribute to the victims and survivors of the bombing at the Boston Marathon. "Sweet Caroline" by Neil Diamond has been played at every Boston Red Sox game since 1997 and is associated with the city of Boston.
Race director and Track Shack co-owner Jon Hughes asked that athletes place a hand across their heart as they cross the finish line last night as a way of dedicating their run to those who suffered as a result of the bombings. He also announced that a portion of the proceeds will benefit The One Fund Boston.
http://onefundboston.org/
Massachusetts Governor Deval Patrick and Boston Mayor Tom Menino have announced the formation of The One Fund Boston, Inc. to help the people most affected by the tragic events that occurred in Boston on April 15, 2013.
Lake Eola Park is a spectacular and tranquil venue for people to enjoy the post race celebrations and help this race live up to its promise: Run, Walk and Office Party.
Use Facebook to Leave a Comment
- We'd love to hear from you.