Track Shack One of Four Stores in Florida to Carry Adidas BOOST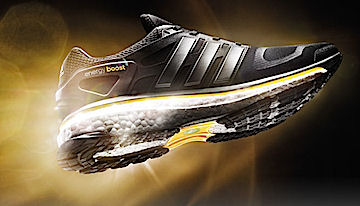 Orlando, FL -- Track Shack, a specialty running retailer in Orlando, Florida is one of only four stores in the state to carry the adidas BOOST , part of a new adidas segment called Energy Running. The shoe features BOOSTTM a revolutionary cushioning technology which provides the highest energy return in the running industry. BOOSTTM will be available at Track Shack on February 27
"Adidas helps make athletes better. With our new Boost foam, we are addressing a fundamental insight: everyone wants more energy. Whether you're running a marathon, training for an upcoming season or just trying to get back in shape, our revolutionary Boost cushioning foam provides the highest energy return in any running products," says Eric Liedtke, Head of Sport Performance, "Energy Boost will reset the running industry and pave the way for all future performance footwear."
"We've been carrying adidas in Track Shack for many years and can't wait to have our customers try BOOSTTM on," says Track Shack co-owner Betsy Hughes. "Light, yet supportive and responsive, the cushioning really has to be tried on to be appreciated. Runners can take them right outside our back door for a test run." Please check out our Facebook Page to see our latest up to date news and events.
In 2012, Track Shack was named one of the'50 Best Running Stores in America' by two leading trade and consumer publications Running Insight and Competitor Magazine. Track Shack celebrated their 35th anniversary in 2012 and celebrated their fourth time being recognized as one of the '50 Best Running Stores in America.'
Use Facebook to Leave a Comment
- We'd love to hear from you.