Lady Track Shack Week 2019
Girls' Nights Out for Runners and Walkers!
The week of January 21 – January 26 is set aside in Track Shack as Lady Track Shack 5k Week with events, activities and excitement leading up to the 42nd AdventHeath Lady Track Shack 5k Run and Walk!
Getting fit and feeling good is the overarching theme with opportunities to do yoga, learn foam rolling techniques, or get an expert bra fitting to make exercising more comfortable. Then on Saturday we'll unite as a community of lady runners and walkers to help fund mammograms for local women.
Join us!

Monday, January 21
Yoga for Runners at 5:45 pm, RSVP
Tuesday, January 22
Foam Rolling Clinic at 5:30 pm, RSVP
Wednesday, January 23
· Facebook Live featuring Betsy Hughes and Kelly Frank, AdventHealth Physical Therapist at 5:30 pm
· Midweek Group Run Run at 6:30 pm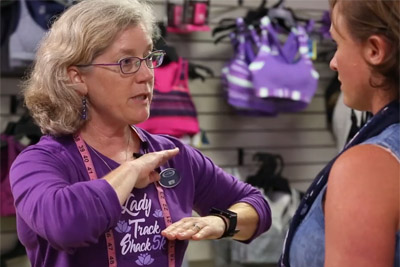 Thursday, January 24
Bra Fitting Night at 5:00 pm, with expert bra fitters from Brooks, wine and cheese! Ladies receive 15% off in-stock bras.
Friday, January 25
Nutrition Sampling
Saturday, January 26
AdventHealth Lady Track Shack 5k at 7:30 am, Loch Haven Park. Register here >>
Mark your calendar to take part in events that celebrate your healthy and active lifestyle!
Use Facebook to Leave a Comment
- We'd love to hear from you.