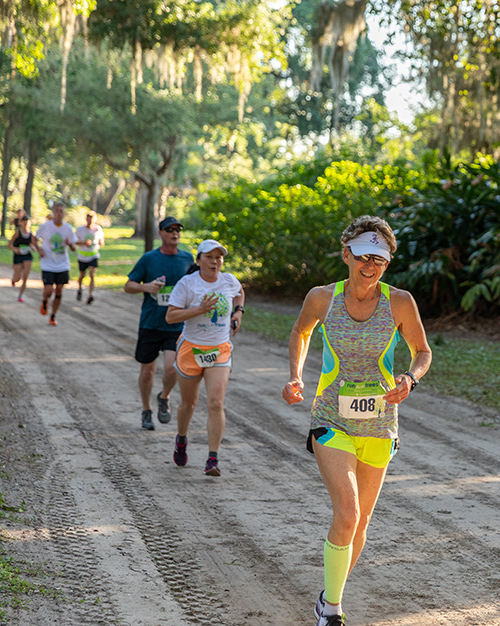 B-Tag Scoring
The B-Tag by ChronoTrack is a timing device used to score 5k participants. The B-Tag is attached to the back of your runner bib.
In order to receive an accurate time, please confirm your bib is:
Clearly visable on the FRONT of the torso.
Unaltered or modified. Do not fold or wrinkle or you risk breaking the timing chip.
Pinned in all four corners so the timing chip stays flat.
Not covered with jackets, water bottles, etc so as not to block the reading of the timing chip.
Results
Same day results will be posted on TrackShack.com.
"Green" Awards
Due to the "nature" of the event, "prize trees" go to:

• Top three overall male and female finishers.
• Top nonbinary/genderqueer finisher.
• Top male and female finisher in the master division.
• Top male, female and nonbinary/genderqueer  finisher in the push rim wheelchair division. 
• Top three male and female finishers in each age division.
View Track Shack's Accessibility & Inclusion Policies >> 

Note: Participants who prefer not to disclose their gender are not eligible for awards. Any master athlete that places in the overall division receives the overall award. Top three overall male and female finishers are awarded based on gun time, all other awards are based on net time. ONLY Runners and walkers who wear the designated B-Tag are included in the race results. Eight and above are eligible for awards. 
Trees will be distributed by the City of Winter Park post-event. Award winners will have the option to claim their tree or donate their tree to the City of Winter Park to plant within the city limits. If you have any questions, please contact the City of Winter Park Urban Forestry department at 407-599-3325.
| | | | |
| --- | --- | --- | --- |
| 8-10 | 25-29 | 45-49 | 65-69 |
| 11-13 | 30-34 | 50-54 | 70-74 |
| 14-18 | 35-39 | 55-59 | 75-79 |
| 19-24 | 40-44 | 60-64 | 80 and over |