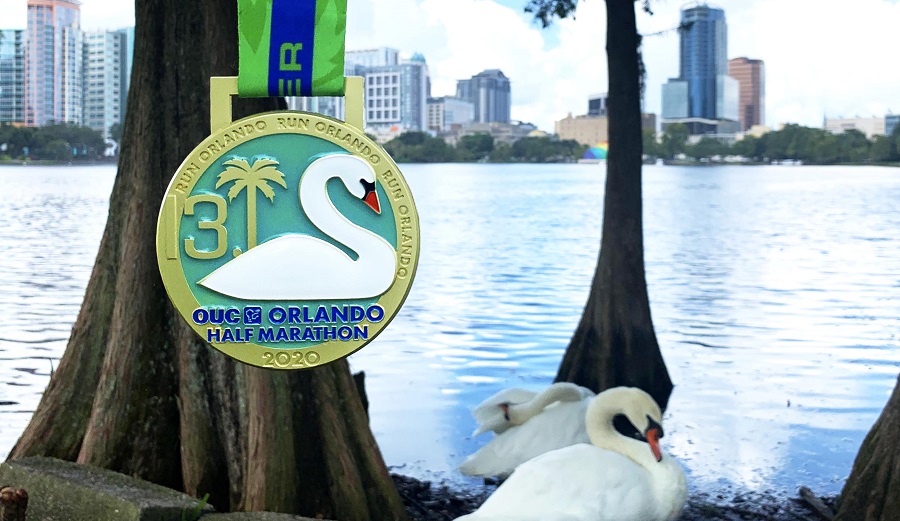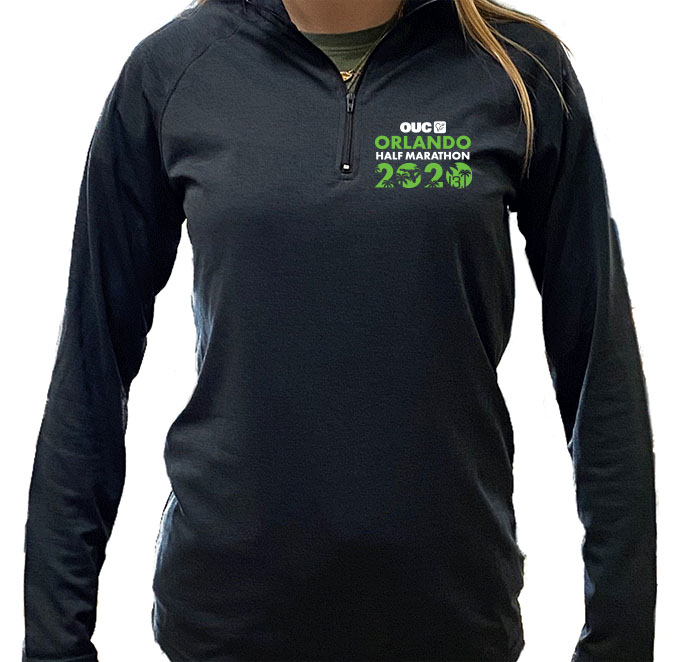 Health and safety are our priority. 
We have received clearance from the City of Orlando and Orange County to hold the OUC Orlando Half Marathon as a physical race. Track Shack is carefully monitoring the conditions surrounding the COVID-19 pandemic and we are taking added precautions for participant and volunteer safety. Please note, should community health conditions decline, the event may be switched to virtual.
COVID-19 Event Safety Protocols >>
Perks
• Finisher medal 
• Gender-specific quarter-zip long sleeve top
Size chart >> 
• Customized Finisher Certificate 
• Virtual Option Available! 
Hometown Half Medal Series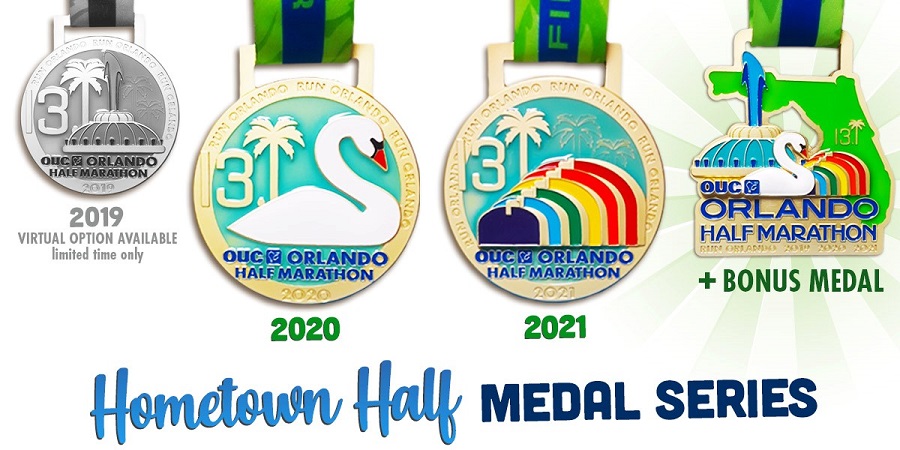 Three years featuring the icons of Orlando, the City Beautiful. Register for the 2019, 2020 and 2021 OUC Orlando Half Marathon as a bundle or individually and earn the bonus medal in 2021! 
Didn't participate in 2019? It's not too late to join the Hometown Half Medal Series! The 2019 virtual option is available when registering for the 2020 event. Read more about the medal series. BLOG >>
Course
This route is a USATF-certified course: OUC Orlando Half Marathon Course Certification >>
OUC Orlando Half Marathon Course Info
• Nine water stops about every 1 1/2 miles.  Water will be provided in small 8oz size water bottles as a self-serve station.  Volunteers will be there with gloves and face masks on to assist any runner that might need the bottle opened.

- Water refill stations will also be available at each location water stop. Water will be provided by OUC and will be available at each hydrant where a volunteer will assist in turning on and off the water location to ensure there is no physical contact.
- 12oz bottles of  Gatorade will be available at approx. 8.5 miles (Water Stop #6) and at 11 miles (Water Stop #8).
• Live Entertainment
• Two Port-O-Lets and medical tent at each water stop 
• One food stop with GU and CLIF Shots Energy Gels at approximately mile 8.5 
• Approximately 1.6 miles of brick (all in the first 5 miles)
• Two on course tents will include an EMT and self-serve supplies such as Band-Aids, Blistex, sunscreen, Biofreeze, blister relief. Mile 5 and 10
• Bike medics will be on course provided by OFD
• 5 downtown residential neighborhoods with cheering fans: EOLA HEIGHTS, LAKE DAVIS, DELANEY PARK, HOURGLASS DISTRICT, MILK DISTRICT
• Track Shack Events will provide official course vehicles to assist any runner or walker back to the finish should they experience an injury, are  not able to complete the race, etc. 

Runner Tracking

The OUC Orlando Half Marathon features the latest in real-time race tracking by providing Live Results via our partner RTRT.me. Check your runner's status at the following splits in the half marathon: 5k, 10k, 15k and finish. Features Include:

Text2Follow

Follow participants in real-time via text notifications to your mobile phone. Text OUCHM to 38909

Live Results & Leaderboard  - RACE DAY

Go to https://rtrt.me/ouchm. This allows you to track an athlete online as they compete. 

Note: If you register on Monday or Tuesday of race week, you will be able to sign up for tracking on Wednesday after 10:00 am; if you register on Wednesday or Thursday, you can sign up on Friday after 10:00 am. If you register on Friday of race week, you will be able to sign up for tracking after 9 pm Friday or on race morning. Times posted during the event are Unofficial. Official results are posted upon completion of the event. 
B-Tag Timing
The B-Tag by ChronoTrack is the timing device used to score half marathon participants. The B-Tag is attached to the back of the runner bib number. In order to receive an accurate time, please confirm your bib is:
• Clearly visable on the FRONT of the torso.
• Unaltered or modified. Do not fold or wrinkle or you risk breaking the timing chip.
• Pinned in all four corners so the timing chip stays flat.
• Not covered with jackets, water bottles, etc so as not to block the reading of the timing chip.
Results 
2019 Half Marathon & 5k
2018 Half Marathon & 5k
2017 Half Marathon & 5k
Results prior to 2007 aren't available.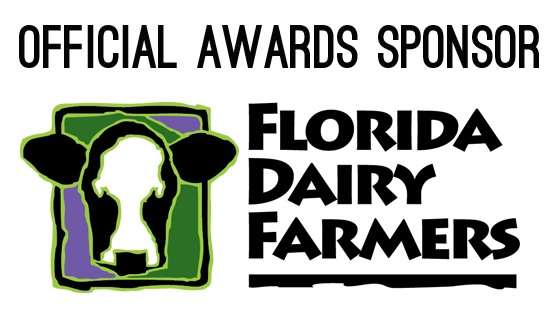 Half Marathon Awards and Prizes 
Merchandise prizes and prize money totaling $3,400 will be awarded to the top three overall male and female athletes!
1st Overall – M / F $850
2nd Overall – M / F $500
3rd Overall – M / F $350
4th Overall – M / F
5th Overall – M / F 
Masters – Top M / F
Age Group - Top 3 M / F
Race Walkers – Top 3 M / F
Prize money recipients must have valid US Social Security Number. Merchandise prizes will be awarded to the 1st place male and female in each age group. Please note, overall awards are based on Gun Time. In the interest of fairness, the Masters, and Age Group awards will be based on Net Time. 
14-18   35-39   55-59   75-79
19-24   40-44   60-64   80 and over
25-29   45-49   65-69    
30-34   50-54   70-74   
Note: ONLY Runners and walkers ages 14 and above who wear the designated B-Tag are included in the race results. View TSE policy >>
Florida Dairy Farmers Top Finisher Hat
What's your goal? To be a Top Finishers? The first 25 men and first 25 women across the finish line receive the Florida Dairy Farmers Top Finishers Headsweats hat.

All finishers can take a photo with Merry Moo and refuel with a chocolate milk at the Florida Dairy Farmers tent. #OUCTopFinisher #builtwithchocolatemilk, #floridamilk 
Race Walkers
The top male and female race walkers in the half marathon will receive awards. This is a judged race walking competition. Those who wish to compete in the race walking division need to register at the Central Florida Race Walkers' tent on race day. Same registration procedures and entry fees apply.