All in the Family
Last year I acquired a new name, Nana :) How I love it and sweet Talia! It's fun to be a grandmom and I'm looking forward to hearing her say it soon. I have lots of names... from Betsy, to mom, to Mrs. Hughes and "the shoe whisperer" and "the Track Shack lady." But Nana is my new favorite.
Back in 1977 when Track Shack was just an idea the name itself was pretty catchy. 8-track tapes were popular then and that could be confusing, plus Track Shack rhymed with Radio Shack. We fielded lots of phone calls back then directing people to the store that actually sold radios and batteries. We set them on the right "track" while also explaining what we did and inviting them to visit the store. Now, Track Shack is one of the oldest specialty running and walking stores in the U.S. and our name has become somewhat iconic. Jon and I are proud of that and also that our son Chris aspires to continue our mission of keeping Central Florida fit and healthy. I love being in the store and listening to the chatter between our staff and our customers. Sometimes it's actually a little loud and to see the interaction among everyone always makes me smile.
It seems like yesterday we were living in the 1900's and now in just 12 short months it will be 2020! It sounds so Star Trek. We have lots to do and accomplish before then and aren't we lucky it's all about staying healthy? The new year brings new goals and for many of us that means lots of miles. 2018 was an eye opener for me and I finally realized that it can't be just miles for me anymore. The miles I've been doing are more walking miles than running and my bike and I are getting to know each other a little better. But moving is moving as my neighbor says! I've had back issues for years but I continue to work on my core and my inner mantras' that keep me focused. Walking or running means putting one foot in front of the other.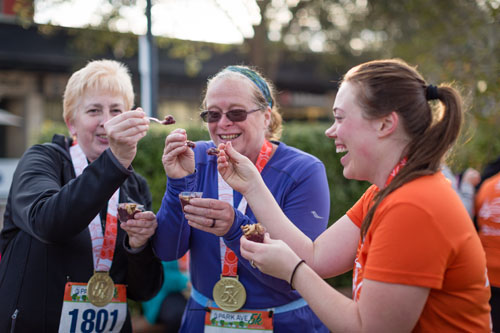 January has two great but very different 5k's, although the distance remains equal. The Park Avenue 5k works off your calories before enjoying the "experience the taste" of more than 20 food vendors! It is the fourth event in our Track Shack Running Series and the first in 2019. Then on January 26th, our Central Florida ladies participate in our 42nd Lady Track Shack 5k Run and Walk. This event raises awareness and funds for the Breast Cancer Care Fund at AdventHealth. They recently had a name change as they are formerly Florida Hospital. I can hardly wrap my head around the marketing it took to do this. Names are so important, they tell your story and I think this change will do just that. Lady Track Shack holds a special place in the heart of so many of us. The statistic that one in eight women will get breast cancer is huge. I really hate that word, cancer. J The week of the event will be all about your health...we'll have yoga, an AdventHealth Physical Therapist one evening and even a bra fitting extravaganza!
Our super popular Zero to Fit 10-week training program begins again in January. We are so lucky to have two experienced coaches who work with both our beginners and our seasoned veterans of the program. Coach Amanda S. and Coach Bob encourage almost 75 walker/runners each session. Their expertise and care exemplifies their name, "Coach." All our programs are run by experienced coaches and local runners including Coach Susan Paul, Coach Dave, Coach Wayne, another Amanda M. and Coach Nathan or Nate Dog! They are truly an extension of our Track Shack family. It really does take a village!
Every holiday we see longtime friends and our collegiate runners who come back into town. I like to think that Track Shack is like Cheers of Boston, where everyone knows your name. We have fun showing our oldies the new models of shoes and we love watching the youngsters tear up the road at our holiday running events. Things have certainly changed in 41 years but the name's the same, even some of the people are, but mostly it's still all in the family at Track Shack.
Looking forward to seeing you in the new year!
Use Facebook to Leave a Comment
- We'd love to hear from you.