2017: A Year of Celebrations
Another year has simply flown by. And I was just getting used to saying 2017. It was truly a year to celebrate and celebrate we did; both personally and at Track Shack. There were lots of milestones including Jon's parents' 65th wedding anniversary! It was an evening of dancing and reminiscing…mom and dad can still cut a rug J We celebrated Track Shack's 40th in August with a 5k event like no other! The course skirted behind the store where we served cupcakes and had fantastic 70's music playing and a balloon photo backdrop. Our staff celebrated with us through the entire year and Jon and I would not be where we are today without them. They are our "fabric of Track Shack." (I always loved that commercial!)
On another personal note we celebrated the birth of our first grandchild; baby Talia will be three months old by the time this Start Line reaches your home. And, finally, you are yet another celebration. We celebrate you because the community support we receive daily is why we do what we do. People make the world go round, and around we go together, creating a healthy and fitness filled place we call home in Central Florida. Forty years of keeping you fit with shoes and training programs and of course hundreds of running/walking events! Now, it's onward to yet another 40! Thankfully we'll have some pretty awesome help with that. I still plan to be at the store, at the events cheering you on; making sure all is well in the world of feet…but I have some new responsibilities. I want to be the best Nana to little Talia; I want to be there as my mom at 88 starts to slow down and Jon's folks stop dancing quite so much. Jon and I need to take some time to smell the roses. Oh, we aren't going anywhere…there's a lot yet to accomplish and we love what we do.
I've always said that if you like people you will love doing what we do. Retail and event management takes some skill for sure, but mostly liking and respecting the people around us is what we believe is most important. We've been successful for 40 years because we are and we employ people who are sincere and genuine. Natalie Casey and Tom Ward started with us more than 30 years ago. We watched their families grow up and mature. We've attended each other's family's baptisms, birthdays and weddings. There are not two other people so dedicated and supportive to our success.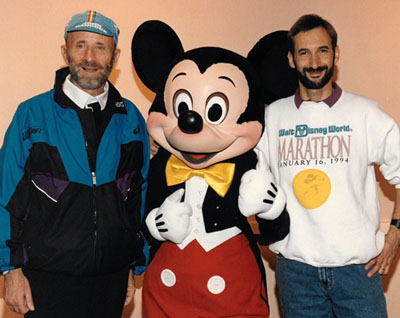 This next year brings more milestones. In January we'll be part of the team producing the 25th Walt Disney World Marathon, an event Jon created long before the RunDisney brand. As race director, he's seen a few changes over the years and we all look forward to a weekend of hard work…but also a memorable one. January is a new year for our training programs as well. One program, that is near and dear to our hearts, is our Zero to Fit. It is for beginners but also for walkers and runners gearing toward their first 5 or 10k distance event. This program began almost 20 years ago by Jim Kirwin and was called WRAP. We now have four time frames for our new athletes (newbies.) Our coaches are dedicated and encourage participants from 5:00 am to 6:00pm!
Susan Paul is our Training Program Coordinator and is so skilled at writing workouts she is also a coach for Runner's World! Jon and I are so lucky to surround ourselves with people like Susan. The staff at Track Shack looks forward to meeting these newbies and our seasoned runners each day.
I love watching our son Chris in action with customers; he and our floor staff including Bruce, Andres, Kerrie and Jake are the essence of our slogan: "Shoes and feet are our business but people are our specialty." When Jon and I are finally ready to smell those roses more often these guys plus the rest of our humble and confident staff will give us the okay to do so.
It seems impossible but it was 24 years ago that the Track Shack Youth Foundation began. The word "Youth" was added this year by our board of directors because that is truly where the funds are distributed in our community. The TSYF is beneficiary of our Track Shack events and we love hearing about the successes of the children who have benefited. Most famous, of course, is three-time Olympian Jenny Barringer Simpson who first ran competitively at Lawton Chiles Middle School. Just this fall, Coach Craig Wise of the Central Florida Gliders shared that 16 of their runners qualified for a national cross country meet!
So many people have helped shaped who I've become over the years. Looking back, both Jon and I were pretty young to take on a business. We never really thought about it not working out. Maybe it was because the support of our family, our co-workers and professionals who encouraged us on to succeed. There of so many people who believed in us and we really just started each day as we do now…
There was one young man who inspired many of us at Track Shack. His name was C.J. He and Chris ran together at Edgewater and he was upbeat and always smiling. Our screen saver on the computer at the store said "C.J. for President!" I'm pretty sure he created it. He joined the military after spending time at UF because he believed in doing for others. C.J. died a few years ago but he left a lasting impression on so many of us. His sincere and genuine attributes continue to guide us…
Use Facebook to Leave a Comment
- We'd love to hear from you.