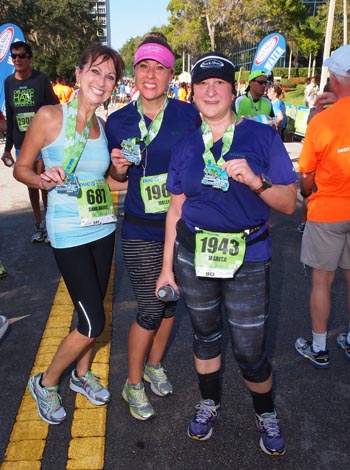 Participants
Can walkers participate?
Of Course! The Orlando Half Marathon is for athletes of all speeds. Please note: Due to city road closure and traffic requirements, half marathon participants MUST maintain a pace of at least 15:00 minutes per mile (or faster).

Are there any age requirements to participate?
To participate in the Orlando Half Marathon one must be 14 and 8 years old to participate in the 5k.

How can I volunteer?
Click here to sign up to volunteer! Volunteers are the backbone of all our events and are always needed and welcome.

Registration
Can I change my mind about which distance to run?
You can switch distances for a small fee. Click here for details.

What if I register and then become injured or am unable to attend?
You can defer your entry to the next year for a small fee. 
Click here for details.

Where can I pick up my race packet?
Race packets will be available to pick up at Track Shack (1104 N. Mills Ave. Orlando, FL 32803). 

Can someone else pick up my race packet?

Photo ID is required for bib pick-up. Participants may pick up on behalf of others by presenting a copy of the participant's photo ID.

How can I make changes to my registration?
Please email info@trackshack.com.
---
How will the start line work?

• Please join your start group according to your anticipated pace per mile!
• To find your start group, look for the pace per mile signs in the start area.
• If your start group is full, utilize the next group.
• Participants unvaccinated against COVID-19 are encouraged to wear a mask and practice social distancing while waiting to start.
• Wheelchair athletes will line up at the front of the corral to start before all runners. Walkers and strollers (5k only) are to assemble toward the back of the corral.
 Will the race be timed?
The Half Marathon will be timed using the ChronoTrack timing system. A ChronoTrack B-tag will be located on the back of the race bib. Do not remove, bend or break the ChronoTrack B-tag. Without the B-tag, your official time WILL NOT be recorded.
Where are the aid stations and what is being served?
There will be nine water stations approximately every 1.5 miles. Two of those water stations will also have Gatorade.
Are strollers allowed on the course?
For the safety of yourself and the other participants, baby joggers, strollers, baby carriers, baby backpacks, inline skates, scooters, bicycles, skateboards, canes, crutches, walkers, walking sticks and animals of any kind are prohibited from the course.
What if it rains?
The race will be held rain or shine. If there is lightning in the area the race will either have a delayed start or, depending on the intensity of the weather, be cancelled. The determination will be made by the Event Management staff.

---
Parking
Where do I park for the event?
Limited parking along side streets; parking garages are located at the corner of Rosalind St. and Robinson Street, as well as various other locations throughout downtown Orlando. Parking garage rates may apply.

How do I meet my family/friends after the race?
A site map will be posted on the website. Review the site map and plan for a designated meeting spot and time. Communicate your estimated finish time.

Post-Race Info
Where can I find race results?
Race results are available on www.trackshack.com

Who can I contact if I have further questions?
Please call us at 407-896-1160 or email info@trackshack.com
---
Accessibility
What accommodations are offered to wheelchair athletes?
Wheelchair athletes are invited to participate in the OUC Orlando Half Marathon. To participate in the half marathon a wheelchair athlete may be push rim or hand cycle and must wear a helmet.  Hand cycle wheelchair athletes will be in the exhibition category, are non-scored and may not pass the lead cyclist. Awards are given to the overall male and female push rim athlete.
For more information on wheelchair participation, please email doug@trackshack.com.
What accommodations are offered for visually impaired runners?
In most situations and within an appropriate time frame, the organizing committee can pair a visually impaired runner/walker with a guide to participate in the half marathon.  Please email chris@trackshack to request this accommodation.