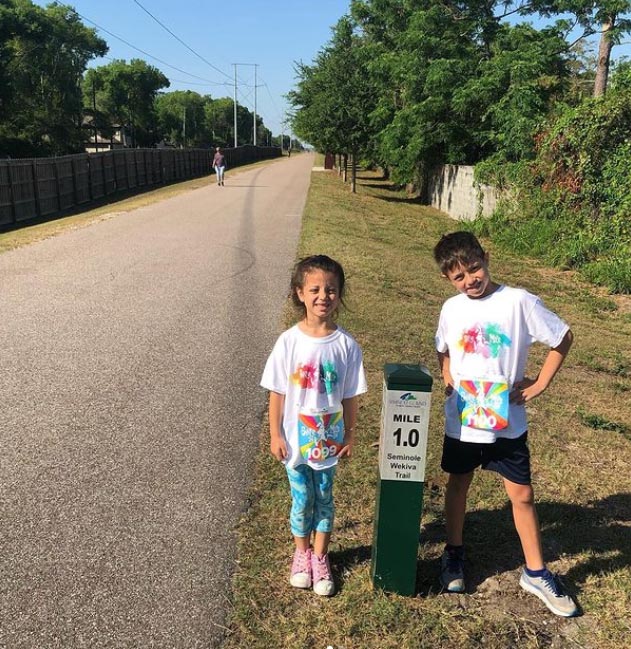 About the Event
Smile Mile is a mile run just for kids. 
Track Shack encourages everyone to create your own at-home or at school running experience and share the fun with us. Young runners will receive a t-shirt, medal and bib!

Coach "Sly" Johnson Largest Team Award
In honor of a dedicated coach and father who motivated so many young runners, the Coach "Sly" Johnson Largest Team Award goes to one school from each county with the most runners participating! To qualify a school must have a minimum of 25 runners participating.  School counts will be based upon registrations received by Friday, March 26th. A $500 grant and plaque will be awarded to the winning schools.
Who's in the Lead? (as of 3/26)
Seminole County - Galileo School for Gifted Learning -200
Osceola County - Osceola Science Charter - 148
Orange County - Orlando Science Charter - 155
Lake County – First Academy Leesburg k-8 - 56
Date
Saturday, March 27, 2021
Entry Fees
Processing fees will apply.
$8  Through March 14
$11 March 15 - March 26
Once the event reaches capacity, participants can still register for a "SHIPPING ONLY" category. Participants who register for that category will receive their bib, shirt and finisher medal in the mail at the end of April. Printable bib >>
Create an At Home Experience
1. Register your child. Be sure to indicate your child's school for the largest team award.
3. Pick up your child's t-shirt, bib and medal at Track Shack or have it shipped straight to you for just $3 (per household)! Group pick up is available by request. 
4. On Saturday, March 27, 2021, wear the shirt and bib, then go outside and do something for a mile: Run a mile, walk a mile, bike for a mile, or skateboard for a mile... you get the idea! 
5. Join the Smile Mile Facebook event: https://www.facebook.com/TrackShackRun to post pictures, share kid and family friendly fitness ideas.

Use the hashtags #TrackShackSmiles #TrackShackVirtual to be featured on Track Shack's email or social media!
@OrlandoTrackShack on Instagram
TrackShackRun on Facebook 

Create an At School Experience
Schools can host a mini Smile Mile as a fundraiser or integrate the race into P.E. classes. 
View the guide and get started >>
Download the event flyer! To request a customized event flyer or for more info, email Maria@trackshack.com.