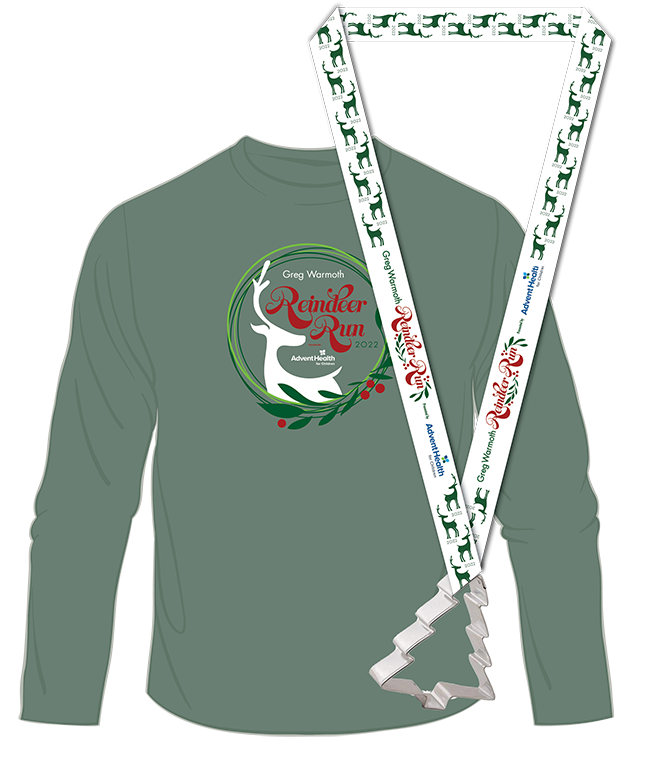 Cookie Cutter Medal and T-Shirt
Participants will receive a long sleeve unisex shirt and a cookie cutter medal.
Youth Size Key: Youth Medium =10-12, Youth Large =14-16
---
Rosen Hotels Holiday Costume Contest

Come dressed in the spirit of the holiday season.
The overall costume contest winner receives a night stay and dinner from Rosen Hotels and Resorts. Winners of the following categories receive SeaWorld tickets:
- Adult (individual)
- Group (up to 8 members)
- Child (up to age 18 years old) 
---
Rudolph Run
Kids' runs are free and recommended for children 12 and under. Distances range from 100 yards to 400 yards and children will be placed in age appropriate groups. Registration available on race week. T-shirts are first come first serve.
---
SeaWorld Ticket Discount
Participants will receive an offer on the back of the race bib to save 40% on a single-day admission ticket to SeaWorld Orlando. 

---
Event Photography
Be sure to wear your bib number on the front using all four pins so that it's visible to photographers! Visit www.bbactionphoto.com to view race day photos. Participants will be notified by email when photos are ready for viewing!