Track Shack Running Series Athletes Thriving in a Unique Season – Part 3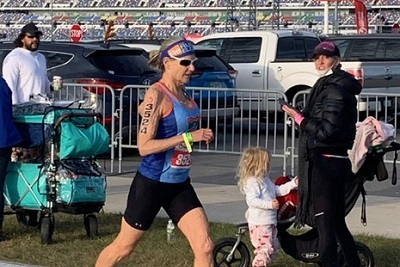 Tom Ward, competitive runner and Track Shack's Vice President of Operations conversed with Senior Grand Master athlete Kitty Musante about her enduring running and triathlon career.
Kitty Musante, 64, New Smyrna, FL
Lifetime PR's:
• 5K-17:37
• Half Marathon- 1:22
• Marathon- 3:00:27
TOM - You have had amazing longevity and accomplishments in a sport that has a history of "wearing down" athletes. To what do you attribute the long running (excuse the pun) success you have had.
KITTY - To be honest I would say my stubbornness, love of running, and the fuel of competition all contributed to my 40 plus years (so far!) of running. As most people who know me, I have suffered with and through many injuries, yet always continued forward. My 3rd race ever, the Tomoka 4 Miler was also my only DNF (Did not Finish) as my foot fractured about 1 mile in and I was in the lead! That forced me into the pool and I became a triathlete, which lead to enormous success and more injuries as it included a serious bike crash which resulted in a fractured pelvis. This only made me more determined and hungrier to swim, bike and run and six months later I was on the starting line in Kona Hawaii for my first Ironman. That accident might have been a blessing in disguise, as I felt fresh and made the podium in my age group as well as placing in the top 25 women, including the pros. I have always set goals and was told by several doctors that running was not recommended and I would need a knee replacement. I never gave up and changed doctors!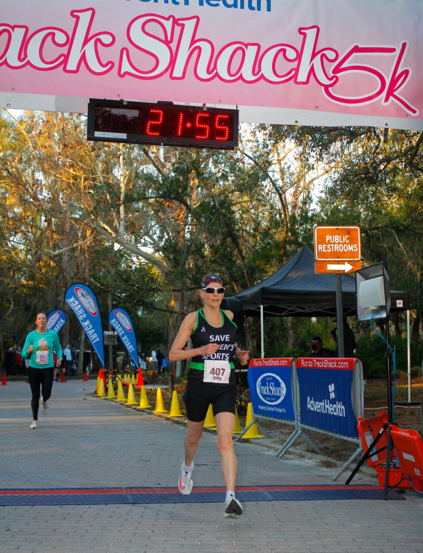 TOM - How is your training the same or different from your early days of competing?
KITTY - My training in my younger years, while competing in triathlon averaged about 30 hours a week with running ranging from 30 to 50 miles per week. I usually would include a speed/interval day on the track and a long day if training for a marathon. I also considered 2 runs a day, but decided that was too risky for me.
These past few years after going through a long-term foot injury, I started back very conservatively and slowly built up to my sweet spot of approximately 1 hour of running, (6-7 miles) every day with no days off. This is about 50 miles per week and has surprisingly worked very well for me for the past 2 years. I want to stress it is not a streak, as I have taken off a few days due to travel, illness etc. I always run first thing in the morning and if that isn't possible, I don't make it up in the afternoon. In 2 years, I have missed about 12 days.
TOM – When did you start running?
KITTY - I started running in 1980 after moving here from Virginia. I didn't run in high school or college. My background was classical ballet, so I knew how to suffer!
TOM - What motivates you to push yourself in training and the races?
KITTY - I LOVE to race! I have often thought," Am I running towards something or am I running from something?" That's what happens when you are a psychology major in college! Well I still don't have an answer, but I always give my best effort every time I step on that starting line. My specialty these days is the 5K with an occasional 4 miler or 10K, so I do continue to run a tempo or ¼ mile and 1/2 mile intervals once a week and maybe a 9-10 miler every 2 or 3 weeks. I race quite often, sometimes 4 weekends in a row and that motivates me to keep training to run more races!
TOM - Briefly explain what "age graded performance" means.
KITTY - Age graded performance is the best especially when you get older! There are several age graded tables/calculators available on the internet. They allow you to input your age, sex, distance and time and see how you rate with the record for your age and more importantly what your performance translates to if you were in your prime. It's a game changer, as we unwillingly get slower with age. I am actually running better (faster based on Age-graded performance) than I did in my early 30's when I ran in the high 17's/18's for the 5K.
TOM - What is the one thing you would advise talented young runners like Annabella to do, to have an enduring career like yours?
KITTY - Annabella is amazing and an inspiration to me. First of all she and other youngsters are the future of our beloved sport. My only advice is to enjoy the pureness and the freedom that running brings to our lives. Realize that you have time, years to run, and be patient and enjoy the process and the journey!
TOM - Do you have a favorite Track Shack Running Series race?
KITTY - Oh, that's a tough question. I have run this series countless times over the years and always appreciate the professionalism of the Track Shack organization and that their races are certified! Though I now prefer the shorter 5K's, I think the Winter Park 10K is still my favorite, as it is the end of the series and everything is on the line as well as it is usually my last super competitive race at the end of the season. Warmer temperatures will be arriving soon, which makes fast running difficult.
KITTY: Thank you for the opportunity to share with you how running even as we age can be rewarding and challenging. Remember no matter what, keep moving forward!
Use Facebook to Leave a Comment
- We'd love to hear from you.